FREE ICBC Knowledge Test Practice 2023 | BC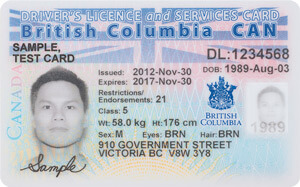 4.29 out of 5 • 119 votes.
Based on 2023 BC driver's license manual
Instant feedback
This practice test is designed to prepare you for the official ICBC knowledge exam that you need to pass in order to obtain your learner's licence. The ICBC knowledge test is a 50-question exam (all are multiple-choice questions) that you'll take on a computer at your local driver's licensing office. The test will cover all the information found in the BC "Learn to Drive Smart" Manual.
Perfect for:
British Columbia Learner's Permit
British Columbia Driver's License
BC Senior Citizens' Refresher Test
BC Driver's License Renewal.
What to expect on the actual BC exam:
50 questions
40 correct answers to pass
80% passing score
Minimum age to apply: 16
List of questions (classic view)
Which of the following are known as uncontrolled intersections?

If two vehicles arrive at an uncontrolled intersection from different roadways at about the same time, the vehicle _________ has the right-of-way.

If you see a pedestrian with a guide dog who is waiting at a crosswalk,

If you see a pedestrian at the side of the road who is about to jaywalk, you should

When leaving a highway, you should slow down

You are driving in the right lane of a freeway. Another vehicle is trying to merge into your lane from a freeway entrance. You should NOT

While you're driving, you start to feel sleepy. What should you do?

Which of the following statements about a bicycle lane is true?

In heavy traffic, how can you help a cyclist who is signalling to turn left?

You are preparing to turn left at a green light when you notice an oncoming vehicle. What should you do?

At an unmarked crosswalk, you must

How often should you perform an observation cycle?

Vehicles approaching a roundabout must

Always use _________ to exit a roundabout.

Which of the following statements about driving in a roundabout are true?

Three cars arrive at this T-intersection. In which order should they proceed?

Don't change lanes

Three cars arrive at an intersection at about the same time. A pedestrian has started crossing the road. Who has the right-of-way here?

Pedestrians and cyclists are more at risk than car drivers because

To identify hazards while driving, you should

Collisions between trains and cars are more likely at night because

Tailgating is dangerous, mainly because

Which of the following statements about preventing road aggression is FALSE?

In British Columbia, when are you allowed to check text messages on your cellphone?

An antilock braking system (ABS)

You have stopped behind a school bus with its flashing red lights on. When can you pass?

You see a large animal directly in front of you and you cannot avoid it. What should you do?

To drive through standing water, you should

Consuming one glass of wine or beer before driving

The likelihood of an accident increases if a driver is under the influence of

Why is it important to stay out of the blind spots of a large vehicle?

It is OK for you to take a drug before driving if

If you see a pedestrian about to cross where there is no intersection, you should

Making eye contact with pedestrians and other drivers is important because

Motorcyclists often ride in the left part of their lane because

On a multi-lane road, why is the rightmost lane usually the safest lane?

You're driving on a city street. If you see a public transit bus signalling that it wants to pull out, what should you do?

On wet roads, you should be prepared to deal with

Why is it dangerous to overdrive your headlights at night?

You should watch for which of the following on the sides of the road?

Why should you use caution when driving a vehicle with a higher centre of gravity, such as a sport utility vehicle (SUV), pickup truck or camper van?

Why is it dangerous to tailgate the vehicle in front of you?

Taking more than one parking spot

Why should you not use a hand-held cell phone while driving?

How can you help prevent aggressive behaviour in other drivers?

The use of alcohol or drugs can affect the driver by impairing

What does this sign mean?

What does this sign mean?

What does this sign mean?

What does this sign mean?