FREE British Columbia Learner's Licence Test 2023 | BC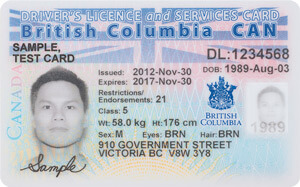 4.18 out of 5 • 469 votes.
Based on 2023 BC driver's license manual
Instant feedback
In order to receive either your BC learner's licence or driver's licence, you'll need to pass a written exam consisting of 50 multiple-choice questions based on the 2023 BC Learn to Drive Smart Manual. The manual will cover all the topics you will face on the exam, from safety belt laws to right-of-way regulations. This BC practice test, which features questions written in the same format as those you'll find on the written test and covers the same information, will allow you to make sure that you're fully prepared for your exam, and will increase your chance of passing the first time.
Perfect for:
British Columbia Learner's Permit
British Columbia Driver's License
BC Senior Citizens' Refresher Test
BC Driver's License Renewal.
What to expect on the actual BC exam:
50 questions
40 correct answers to pass
80% passing score
Minimum age to apply: 16
List of questions (classic view)
A tire that looks like this is

Vertical rectangular traffic signs generally

What does this sign indicate?

If you have a standard transmission, you should drive your vehicle in first gear when you are

Which of the following is NOT true about the "park" transmission gear?

In order to conserve fuel in vehicles with automatic transmissions, you should use "overdrive" when driving

You should use cruise control while you are

Which of the following is NOT true about tires?

What proportion of the air pollutants in the Lower Fraser Valley could be attributed to cars and light-duty trucks?

Three types of official road signs are

A solid white line means that you are

Signalling is an important part of road safety. You should signal to other drivers before you

Traffic on the through road must have immediate right-of-way at

What is the first thing you need to do when approaching a traffic circle?

When driving on a freeway with more than two lanes travelling in each direction, you should drive in

The knowledge test to receive your Class 7L learner's licence contains

When scanning ahead while driving, you should be looking ahead

The most dangerous blind spots are

What does this sign indicate?

This sign is a warning that the road ________ ahead.

Which car is NOT using the traffic circle (roundabout) correctly?

You must be careful when driving on many of B.C.'s back roads because

What is the meaning of two solid yellow lines?

You should allow yourself plenty of time when driving somewhere, because it

What should drivers keep in mind when they see this sign?

If you see this yellow flashing X over your lane, you should

When roads are wet, you should allow

It requires _________ the normal braking distance for a driver to stop on ice.

During the GLP program, you will need to hold your Class 7L learner's licence for

Your class 5 road test may include

You encounter a road marking that depicts a white arrow curving left. What does it mean?

What does a flashing green traffic light mean?

What does a flashing red traffic light mean?

A large diamond painted on a lane indicates

What does a traffic light with a steady green arrow pointing either left or right mean?

What does a steady red "X" signal above a lane mean?

You encounter a sign with a green circle. Inside the circle is a straight arrow pointing upward. What does this sign mean?

You encounter a school zone sign with a 30 km/h posted speed limit. You may not exceed 30 km/h at which times?

In a two-way left-turn lane,

In British Columbia, U-turns are prohibited

How should you position your vehicle within your lane?

At an uncontrolled intersection, you should

At a railway crossing, you must stop at least

When you park your vehicle facing downhill on a two-way road, which way should you point your front wheels?

Consuming one glass of beer before driving is

You can use cruise control

In Canada, distances between cities are always expressed in

In British Columbia, do cyclists have the same rights and responsibilities as drivers?

All your driving maneuvers combine which of the following four skills?

Driving much slower than the surrounding traffic