New Brunswick Driver's Practice Test 2023 | NB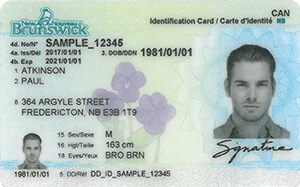 4.14 out of 5 • 42 votes.
Based on 2023 NB driver's license manual
Instant feedback
This NB practice test will help you pass your written test as it covers the same information you'll find in the 2023 New Brunswick Driver's Handbook. Each question comes with a hint and an explanation that specifies which chapter of the textbook it comes from. In order to receive your NB class 7 learner's licence, you must pass a 40 multiple-choice knowledge test, a signs and basics test, and a vision test. You must be at least 16 years of age to start the process of receiving your class 7 learner's licence, which you must then hold for 24 months. If you are under 18 years of age, you'll need signed parental consent to get your class 7 learner's licence. The fee for the licence is $90, and it is valid for four years. The fee to take your written exam is $25, and it costs $15 to retake the exam, and then a fee of $25 for a road test.
Perfect for:
New Brunswick Learner's Permit
New Brunswick Driver's License
NB Senior Citizens' Refresher Test
NB Driver's License Renewal.
What to expect on the actual NB exam:
40 questions
16+16 correct answers to pass
80% passing score
Minimum age to apply: 16
List of questions (classic view)
What does this sign mean?

All drivers under the age of ____ must have a Blood Alcohol Content of zero whenever they drive.

Is this car legally parked?

What does this image illustrate?

What shouldn't you do with your block heater?

The Ignition Interlock Program is intended for drivers who

A peace officer is authorised to

A modern engine needs _______ to warm up in most weather.

You must dim your headlights whenever you are within ________ of an approaching vehicle.

You must dim your headlights whenever you are within ________ of a vehicle you are following.

A NB driver will lose ____ points for unlawful parking in a disabled parking zone.

If you are found guilty of failing to report a collision, you will lose ____ points.

If you are found guilty of _________, five points will be deducted from your driving record.

What is the purpose of the point system?

If you fail your road test for the third time, you may retake it in

If you change your name or address, you must report the change to the New Brunswick Motor Vehicle Branch within

You should NOT move an injured person at the scene of a collision UNLESS

The largest blind spot of a truck may be up to

If you are involved in a collision in which a person is injured, you must produce

Your licence will be suspended if you accumulate ____ points on your driving record.

A Class 7 Level 2 license holder may carry up to ____ passengers.

If you are convicted of failing to stop when requested by a peace officer, a court can suspend your licence for up to

Studded tires must NOT be used

By law, which vehicles are required to stop before proceeding through a railway crossing?

When you approach a railway crossing, you must stop no less than ________ from the nearest rail if the signals are flashing.

On the days in which school is in session, the school zone speed limit is in effect

A centre lane that is marked on each side by a solid yellow line and a broken yellow line is reserved for _________ and can be used by vehicles travelling in either direction.

When school is in session, the speed limit in a school zone is _______ unless otherwise posted.

You must NOT pass

In which of the following situations can you safely pass a vehicle on the right?