NB Driving Practice Test 2023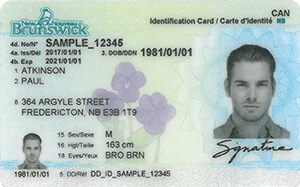 4.44 out of 5 • 34 votes.
Based on 2023 NB driver's license manual
Instant feedback
In order to receive your New Brunswick's class 7 learner's licence, you must pass a 40 multiple-choice knowledge test, a signs and basics test, and a vision test. You must be at least 16 years of age to start the process of receiving your class 7 learner's licence, which you must then hold for 24 months. If you are under 18 years of age, you'll need signed parental consent to get your class 7 learner's licence. The fee for the licence is $90, and it is valid for four years. The fee to take your written exam is $25, and it costs $15 to retake the exam, and then a fee of $25 for a road test. This New Brunswick practice test can help you save money by helping you pass your written test the first time, as it covers the same information you'll find in the 2023 New Brunswick Driver's Handbook, just like the official written test. Each question also has a hint and an explanation that specifies which chapter of the textbook it comes from, if you want more information.
Perfect for:
New Brunswick Learner's Permit
New Brunswick Driver's License
NB Senior Citizens' Refresher Test
NB Driver's License Renewal.
What to expect on the actual NB exam:
40 questions
16+16 correct answers to pass
80% passing score
Minimum age to apply: 16
List of questions (classic view)
To signal your intention to turn, change lanes, slow down, or stop, you should NOT

When emerging from an alley, driveway or parking lot, you should

When you're waiting to make a left turn at an intersection,

If you must leave your vehicle unattended on level ground, point your wheels

Which of the following is NOT a proper step in parallel parking on the right side of the road?

When parallel parking on a NB public road, you must park no farther than ______ of the curb or edge of the roadway.

Which of the following statements about winter driving is FALSE?

Two vehicles approach an intersection from different roadways at about the same time. Each vehicle encounters a stop sign. Which vehicle must yield?

You are approaching a stopped school bus from the front. Its red lights are flashing. What should you do?

When you stop for a stopped school bus with flashing red lights, you must stop at least _______ from the bus.

You are approaching a red light, but a peace officer waves you through it. What should you do?

If you plan to take the second exit from a two-lane rotary or traffic circle, you should enter

When are you allowed to exceed the posted speed limit?

You're driving on a limited-access highway. If you pass your exit, what should you do?

Which of the following statements about speed limits is true?

New Brunswick law prohibits driving while impaired by

All of the following can affect your blood alcohol concentration (BAC) EXCEPT

Which of the following will help an intoxicated person sober up?

Which of the following statements about driving in a traffic circle is FALSE?

Which pavement markings can be found near the approach to some railway crossings?

Which of the following statements about reinstating suspended licences is FALSE?

A conviction for impaired driving may lead to

If you start feeling drowsy while driving, you should

You may make a right turn at a red light, but only after you

Drivers cause skids by

Car A is turning right on a red light. At the same time, a pedestrian starts to cross the road that the car is about to enter. Which one must yield?

What must you do at a flashing yellow or amber traffic signal?

What must you do at a steady yellow traffic signal?

Which of the following statements about using the horn is FALSE?

What does the expression "overdriving your headlights" mean?