FREE New Brunswick Learner's Permit Practice Test 2023 | NB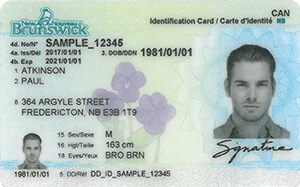 4.02 out of 5 • 47 votes.
Based on 2023 NB driver's license manual
Instant feedback
In order to receive your New Brunswick's class 7 learner's licence, you must pass a 40 multiple-choice knowledge test, a signs and basics test, and a vision test. You must be at least 16 years of age to start the process of receiving your class 7 learner's licence, which you must then hold for 24 months. If you are under 18 years of age, you'll need signed parental consent to get your class 7 learner's licence. The fee for the licence is $90, and it is valid for four years. The fee to take your written exam is $25, and it costs $15 to retake the exam, and then a fee of $25 for a road test. This New Brunswick practice test can help you save money by helping you pass your written test the first time, as it covers the same information you'll find in the 2023 New Brunswick Driver's Handbook, just like the official written test. Each question also has a hint and an explanation that specifies which chapter of the textbook it comes from, if you want more information.
Perfect for:
New Brunswick Learner's Permit
New Brunswick Driver's License
NB Senior Citizens' Refresher Test
NB Driver's License Renewal.
What to expect on the actual NB exam:
40 questions
16+16 correct answers to pass
80% passing score
Minimum age to apply: 16
List of questions (classic view)
Which of the following must be gathered at the time of transferring vehicle ownership?

A transit marker is a type of temporary permit that will allow you to move an unregistered vehicle from one location to another location. It is valid for ______ hours.

Someone else may use a placard issued to a person with disabilities when

According to the New Brunswick Driver's Handbook, what is the best position for a motorcycle to ride in?

A motorcyclist should NEVER

When an emergency vehicle approaches from either direction, flashing its lights or sounding its siren, all motor vehicle drivers must

As long as there is not a speed hazard that requires a lower speed on highways and provincial streets, the speed limit is ______ km/h in urban districts.

If you are driving significantly slower than the speed of traffic, it is

You are legally allowed to ride in or on a trailer that is being hauled by a motor vehicle in all of the following situations EXCEPT

New Brunswick's most common cause of highway crashes is

As a vehicle driver, you must be particularly careful around bicyclists as they

The three major types of accidents which involve farm equipment include all of the following EXCEPT

While driving at night, if you meet an oncoming vehicle with blinding bright lights, what should you do?

Vertical rectangular signs with black letters on a white background are

Because this sign is diamond-shaped, you can tell that it is a ______ sign.

This sign indicates there is ________ ahead.

This sign warns that, at 0 degrees, a surface may be ______.

For motorcyclists, the manual recommends the FINE-C pre-start routine, as the acronym will help you remember. The F stands for

If you must ride over an object while on your motorcycle, you should

If you are under 19, is it true you can still be an organ donor?

Except when overtaking or passing, it is illegal for a commercial motor vehicle to follow another vehicle within

A class 5 licence allows you to drive

To leave a rotary or traffic circle, you should

A licence plate is required to be

According to the New Brunswick Manual, the greatest danger of highway driving is

If a vehicle is stopped for a pedestrian in a crosswalk, you may

When following another vehicle, you should leave at least one car length between yourself and the vehicle, for every ___ km/h of speed.

As a pedestrian, if you are facing a "don't walk" light, you may

Bicyclists may _______ ride on sidewalks.

Out-of-province vehicles being registered in New Brunswick have ___ days to obtain an inspection.