FREE NB Driver's Test Practice 2023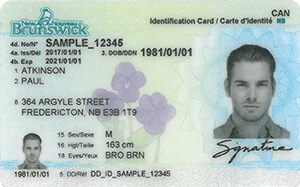 4.31 out of 5 • 660 votes.
Based on 2023 NB driver's license manual
Instant feedback
Preparing for the New Brunswick Driving Test? We are here to help! This free NB driver's practice test contains 40 multiple choice questions that are based on the official New Brunswick driver's handbook. Each question has 4 answers, but only one of them is the best choice. To pass this practice test, as well as the official New Brunswick driving test, you need to score a minimum of 32 out of 40 questions. If in doubt, just hit 'Hint' below. If that does not help, either, just take a guess, and you will be given immediate feedback: if you got it right, you will see the next question; if you made a mistake, the system will show you the correct answer. Happy studying!
Perfect for:
New Brunswick Learner's Permit
New Brunswick Driver's License
NB Senior Citizens' Refresher Test
NB Driver's License Renewal.
What to expect on the actual NB exam:
40 questions
16+16 correct answers to pass
80% passing score
Minimum age to apply: 16
List of questions (classic view)
What does this sign indicate?

How does this sign regulate traffic?

What does this sign indicate?

What does this sign indicate?

What does this sign indicate?

_______ road signs inform drivers of off-road facilities and motorist services.

Which of the following is an example of a medical restriction caused by a driver's poor vision?

What is the youngest age at which you may apply for some class of licence?

Which requirements must a 16-year-old applicant meet to obtain a Class 7 Level I graduated licence?

What does this sign indicate?

What does this sign mean?

What does this sign indicate?

Which type of child safety seat is appropriate for a newborn baby?

What does this sign mean?

What should you NOT do if a blowout occurs?

What does this sign mean?

What does this sign indicate?

A collector's highway in New Brunswick can be identified by a

To increase safety while driving in fog, you should

If you cannot see to drive under conditions of densely falling or blowing snow, what should you do?

It is safe to pass a vehicle on the right in all of the following situations, EXCEPT

What does this road sign mean?

How do the yellow line markings on the pavement assist drivers in safe driving?

When driving on a two-way road without yellow lines dividing the opposing lanes, you should

Broken white lines painted on highways at entry and exit ramps are called

In a rotary or traffic circle, you should drive

A driver attempts to foresee potential collisions and is prepared to avoid them. This driving practice is known as

How should you enter a divided highway?

You should never back up your vehicle in any travel lane EXCEPT

What should you do if a wheel runs off the pavement and onto the shoulder of the road?

A disability placard is valid for a maximum period of

Check for pedestrians in which of the following locations?

When a driver approaches a farm vehicle, which of the following is the most difficult to assess?

All of the following will increase the safety of a pedestrian on a roadway EXCEPT

You are driving on a wet road and have to stop quickly. If your vehicle does not have antilock brakes (ABS), what should you do?

A Class 7 – Level 2 driver may carry up to

When the temperature has dropped below 0 °C, you should use _________ before starting the engine.

While backing your vehicle, your right/left hand should be at the _________ on the steering wheel.

Two cars are turning onto a divided highway. Which car is turning correctly?

In New Brunswick, you should maintain a following distance of at least ________ behind the vehicle in front of you.