Class 7 Learner's Licence Practice Test: Nova Scotia 2023 | NS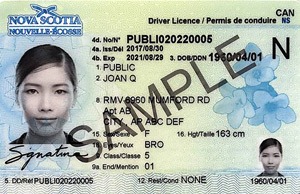 Getting your Nova Scotia learner's licence, as part of the province's Graduated Driver Licensing program, involves passing two tests, a signs test and a rules test. Each test has 20 questions, and you must answer 16 questions on each correctly to achieve 80% passing scores. The tests are based on the 2023 Nova Scotia Driver's Handbook. When you are ready to get your learner's licence, you will need proof of age, two other proofs of identification with your signature, and then signed parental consent if you are 16 or 17 years of age. If you pass the written and vision tests, you will then need to pay the licence fee of $25.10. This Nova Scotia learner's licence practice test can help you become more comfortable with the subject matter, since the questions on it are based on the same information as the questions on the actual exam.
Perfect for:
Nova Scotia Learner's Permit
Nova Scotia Driver's License
NS Senior Citizens' Refresher Test
NS Driver's License Renewal.
What to expect on the actual NS exam:
40 questions
16+16 correct answers to pass
80% passing score
Minimum age to apply: 16
List of questions (classic view)
You are approaching a city bus that is signalling left to pull out of a bus stop into your lane. You should

Flashing red lights may not be used on which of the following vehicles?

Your vehicle's winter emergency kit should include which of the following?

Under what circumstances are you permitted to exceed the posted speed limit?

What is the purpose of the demerit point system?

In Nova Scotia, you may not carry ________ in a trailer or mobile home while you are towing it on a public road.

If the traffic signals at an intersection have stopped working, what should you do?

Demerit points may be removed from an experienced driver's record if the driver

How many demerit points will be added to your driving record if you're convicted of driving to the left of the centreline?

Upon accumulating four demerit points, a newly licensed driver

If a learner driver accumulates four demerit points, his or her licence will be suspended

If you are convicted of speeding between 16 and 30 km/h over the posted speed limit, ____ points will be added to your driving record.

What should you NOT do when walking along a road?

In heavy rain, your tires can ride on a film of water and lose contact with the road. This hazard is known as

In heavy rain, your tires can ride on a film of water and start to hydroplane. What should you do reduce the risk of this happening?

In which of the following situations do you need to stop driving and instead call for assistance?

If your vehicle is suddenly plunged into a body of water, what is your best course of action?

If you are convicted of careless driving, ____ points will be added to your driving record.

You must be at least ____ years old to apply for a learner's licence.

Under the Graduated Driver Licensing (GDL) program, a newly licensed driver must remain in the newly licensed (Class 5N) stage for

You must always stop at a red light unless

If you are convicted of street racing, ____ points will be added to your driving record.

A newly licensed driver may drive unaccompanied late at night if he or she is driving to

You are approaching an unmarked crosswalk where a pedestrian is about to cross. Who must yield?

Two cars arrive at an intersection at about the same time. Which of the following is most true?

When following a fire truck with its lights flashing and siren on, you must stay ________ behind it.

Two cars are turning onto a divided highway. Which cars are turning correctly?

Unless otherwise posted, the maximum speed permitted on any Nova Scotia roadway is

Car B has entered an intersection to turn right on a red signal. Then Car A approaches the intersection on a green signal. Which of the following is true?

When waiting to make a left turn at an intersection,