FREE Nova Scotia Driving Test Practice: Class 7 Learner's Licence 2023 | NS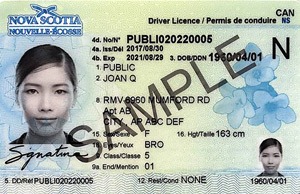 4.35 out of 5 • 552 votes.
Based on 2023 NS driver's license manual
Instant feedback
This practice quiz contains 40 questions on road rules and road signs in Nova Scotia. This will test your basic knowledge on Nova Scotia driving: road rules, parking rules, vehicle licensing and registration information. All of the following questions have been designed from the Nova Scotia Driver's Handbook. Each question contains four answer choices and one of them is the BEST choice. You are required to score 32 out of 40 questions to pass this test. Every time you re-take the test, the questions change their order, as well as the answer options within each question. This is designed to make you really read the questions and answers and not just remember the order of the correct answer. Happy studying!
Perfect for:
Nova Scotia Learner's Permit
Nova Scotia Driver's License
NS Senior Citizens' Refresher Test
NS Driver's License Renewal.
What to expect on the actual NS exam:
40 questions
16+16 correct answers to pass
80% passing score
Minimum age to apply: 16
List of questions (classic view)
What do the broken white lines in this image indicate?

Shared centre lanes are used for

If you encounter this sign, what should you do?

When do the rules on solid and broken lines NOT apply?

What does this road sign indicate?

What does this road sign indicate?

When MIGHT you see a single solid yellow line on your right?

Which kind of parking is not permitted in Nova Scotia?

What does this sign mean?

Which of the following types of parking is common in parking lots, at shopping centres and on very wide streets?

Yellow lines separate lanes of traffic

Which of the following is not a step involved in parallel parking?

What does this sign indicate?

What does this sign indicate?

Which of the following can warn you of a railway crossing ahead?

What does this sign indicate?

What does this sign indicate?

What does this sign mean?

This sign indicates

Which of the following vehicles does NOT have to stop at railway crossings?

It is illegal for the driver of a commercial motor vehicle to follow within _______ of another vehicle.

As you are crossing the tracks at a railway crossing, the warning lights start to flash and the crossing gates start to come down. What should you do?

Can new residents of Nova Scotia who moved from the United States exchange their existing passenger vehicle licence for a Nova Scotia passenger vehicle licence?

You notice a pedestrian about to enter an unmarked crosswalk. What should you do?

You notice an emergency vehicle approaching you from behind with its lights flashing. What should you do?

In which of the following situations should you increase your following distance?

When two vehicles approach a four-way stop at about the same time,

Before changing lanes, you should

Which of the following statements about continuity lines is FALSE?

If you approach a stopped school bus with flashing red lights, you should

Locked wheel skids are usually caused by

To make a sharp turn, turn the steering wheel with the __________ technique.

Which of the following statements about headlights is FALSE?

At which of the following places are you allowed to park?

If you are under emotional or physical stress while driving a vehicle, you should

Which of these is among the biggest causes of collisions at work zones?

In a rotary or roundabout, you should drive

Which of the following are common causes of car-bicycle collisions?

What is the approximate stopping distance of a vehicle travelling at 30 km/h on black ice?

If a police officer suspects that you are impaired by alcohol, he or she will stop you and order you to supply a sample of your