FREE Nova Scotia Driver's Test Practice 2023 | NS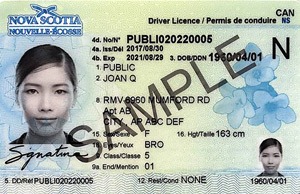 4.44 out of 5 • 165 votes.
Based on 2023 NS driver's license manual
Instant feedback
If you wish to get your driver's licence in Nova Scotia, you will need to start by getting your learner's licence as part of the Graduated Driver Licensing program. In order to get your learner's licence, you will need to take two written tests, which are 20-question tests with one based on rules and the other based on signs. You will need to answer at least 16 questions correctly on each test to pass, achieving an 80% score. In addition to the written tests, you will also need to pass a vision test. When you go to the testing site, you will need to bring proof of age, two other forms of identification, and signed parental consent if you are 16 or 17. In addition to paying the knowledge test fee, you will need to pay the licence fee of $25.10 if you pass the written and vision tests. This Nova Scotia practice test can help you pass the rules and signs tests on the first attempt because it is based on the same information from the 2023 Driver's Handbook as the real test.
Perfect for:
Nova Scotia Learner's Permit
Nova Scotia Driver's License
NS Senior Citizens' Refresher Test
NS Driver's License Renewal.
What to expect on the actual NS exam:
40 questions
16+16 correct answers to pass
80% passing score
Minimum age to apply: 16
List of questions (classic view)
A visitor to Nova Scotia is allowed to drive a vehicle without Nova Scotia plates for up to

Which of the following will NOT help you be more fuel efficient?

Which of the following is NOT required for obtaining a full Class 5 licence?

Which of these restrictions are placed on newly licensed (Class 5N licence) drivers in the GDL program?

How long can you remain a Class 5N driver?

In Nova Scotia, it is illegal to make a left turn at a red light EXCEPT

In this image, which of the following is true?

Your licence may be suspended if you

You should not hug the centre line because

On a multilane highway, when can you drive in the left lane indefinitely?

If your licence has been suspended because you accumulated too many demerit points, you will be issued a probationary licence once the suspension is over. Your probationary licence will last for

Which of the following is true about these yellow pavement markings?

On a highway, vehicles should use an acceleration lane and merging area

What does this sign indicate?

If you encounter a Flashing Light Unit with this pattern of flashing lights, what does it mean?

A police officer can inspect your vehicle

Each of your tires must have a tread depth of at least

When leaving a highway, you should use _________ to slow down.

Maintaining the interior of your car includes which of the following actions?

During periods of rain, roads are usually slipperiest during

The stopping distance of a vehicle travelling at 30 km/h is nearly ________ as long on black ice as it is on dry pavement.

At zero degrees Celsius, frosty and icy road surfaces are _______ than they are at –10 or –20 degrees.

After you've consumed alcohol, how can you remove it from your body?

To pass the Nova Scotia vision test, your visual acuity must be ______ or better in at least one eye.

A visitor to Nova Scotia is allowed to drive a vehicle registered elsewhere for up to

Your vehicle's brake lights must be visible in normal sunlight from a distance of _____ metres.

When the Registry of Motor Vehicles receives a report about a collision, it collects information regarding property damage of ______ or more.

Which of the following statements about exiting a roundabout is true?

According to the Nova Scotia Driver's Handbook, which of the following statements about steering is FALSE?

To avoid a collision, you should do which of the following?