FREE Nova Scotia Learner's Licence Practice Test 2023 | NS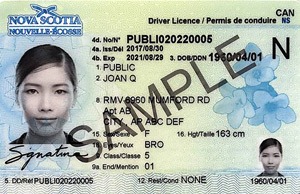 4.33 out of 5 • 228 votes.
Based on 2023 NS driver's license manual
Instant feedback
Getting your Nova Scotia learner's licence, as part of the province's Graduated Driver Licensing program, involves passing two tests, a signs test and a rules test. Each test has 20 questions, and you must answer 16 questions on each correctly to achieve 80% passing scores. The tests are based on the 2023 Nova Scotia Driver's Handbook. When you are ready to get your learner's licence, you will need proof of age, two other proofs of identification with your signature, and then signed parental consent if you are 16 or 17 years of age. If you pass the written and vision tests, you will then need to pay the licence fee of $25.10. This Nova Scotia learner's licence practice test can help you become more comfortable with the subject matter, since the questions on it are based on the same information as the questions on the actual exam.
Perfect for:
Nova Scotia Learner's Permit
Nova Scotia Driver's License
NS Senior Citizens' Refresher Test
NS Driver's License Renewal.
What to expect on the actual NS exam:
40 questions
16+16 correct answers to pass
80% passing score
Minimum age to apply: 16
List of questions (classic view)
The first stage of Nova Scotia's Graduated Driver Licensing program is

The driver is responsible for ensuring that all passengers under ____ years of age wear seat belts or appropriate child safety restraints.

If your Nova Scotia licence expired less than ______ years ago, you can get a new licence without having to retake the written or road tests.

One benefit of taking the long driver training program instead of the short program is that

If you don't pass your road test, you must wait at least _______ before you can retake the test.

The stopping distance of a vehicle travelling at 80 km/h under ideal conditions is

The maximum speed limit is 50 km/h

What is the first step of the "two-second rule"?

In Nova Scotia, which occupants of a vehicle must wear a seat belt or appropriate child restraint when the vehicle is in operation?

A child passenger who is at least ____ years old is NOT required to ride in a booster seat.

If your vehicle stalls on railway tracks, what should you do first?

A broken yellow line usually marks the centerline of a two-way roadway where

This sign indicates

What does this sign mean?

Where in a vehicle should you never install a rear-facing child car seat?

While driving, you see a school bus with alternating flashing red lights and a swing‑out STOP sign. You must stop

In Nova Scotia, provincial controlled-access highways are also referred to as

When are you legally allowed to hitchhike?

If you have been driving for an extended period, inattention tends to

Only _________ are allowed to tow more than one trailer at a time.

Controlled-access highway interchanges require the driver's full attention because

A truck's rear blind spot can extend up to _______ behind the truck.

On roadways with two or more lanes, when are you allowed to pass a vehicle on the right?

If you are feeling overly tired while driving, what should you do?

Some trains require ________ or more to stop.

A new resident of Nova Scotia must register his or her vehicle within _______ of taking up residence.

Which of the following statements about driving at a speed well below the posted speed limit is FALSE?

Suppose your vehicle fails its annual inspection. If you correct all the defects and have the vehicle reinspected within _______, you won't have to pay a second inspection fee.

When you are parking on a hill, you must ensure that your curbside wheels are within ______ of the curb or edge of the roadway.

Which of the following statements about roundabouts is true?