FREE Newfoundland and Labrador Driving Test Practice 2023 | NL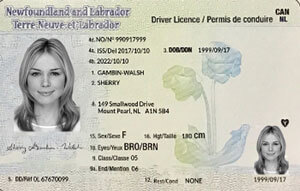 4.25 out of 5 • 57 votes.
Based on 2023 NL driver's license manual
Instant feedback
Newfoundland and Labrador use a Graduated Driver Program for new drivers. To begin driving in the province, you must be at least 16 years old and pass a written knowledge test of 40 multiple-choice questions. Test questions are pulled from the 2023 Newfoundland and Labrador Road Users Manual, and you will be required to correctly answer a minimum of 34 of the questions correctly, for an 85% passing ratio. In addition to the written exam, you'll need to pass a standard vision test, provide proof of age and identity, and parental consent if you are under 19 years of age. There is no cost to take the written exam; you'll simply need to make an appointment at your local testing facility. Once you've passed your exam, your level 1 licence, will be $60, or $26 if you're a senior. The licence will be valid for two years while you practice your driving skills. When you've held the learner's licence for 12 months, or 8 months in combination with passing a driver education course, you may take the road test to qualify for a level 2 licence. Your level 2 road test will need to be paid for in advance of your testing appointment and will be $78, and an additional $125 for the actual licence, which is valid for five years. Except the level 1, all licences are valid for five years. Use this Newfoundland and Labrador practice exam to help you study for the written knowledge test and take your first steps into the Graduated Driver Program.
Perfect for:
Newfoundland and Labrador Learner's Permit
Newfoundland and Labrador Driver's License
NL Senior Citizens' Refresher Test
NL Driver's License Renewal.
What to expect on the actual NL exam:
40 questions
34 correct answers to pass
85% passing score
Minimum age to apply: 16
List of questions (classic view)
A broken yellow line down the centre of the road you are driving on means that

When driving on a road, the lane colours marking the road show

When passing parked cars, you should still be alert for

This sign would be posted to let drivers know that

You may pass a vehicle on the right side if

When changing lanes you should NOT

Before entering a curve, you should

Double parking refers to

You have parked next to the curb facing uphill. Which way should you point your front wheels to stop your car from rolling if your brakes should fail?

When parallel parking, your vehicle should end

If an emergency vehicle with a signal or siren is approaching, you should

Headlights are required to be on

This sign would be posted to let drivers know that

When driving in fog, best practice is to

You should not drive so slow as to impede traffic but, if necessary, you should only do so if you also

What should you do if you approach an emergency vehicle that is operating its flashing lights and siren?

In case of an accident where someone is injured, you should

Transport Canada recommends that children ages ____ and under ride in the back seat rather than the front seat.

While walking along the road, a pedestrian should NOT

In heavy rain, your tires can ride on a film of water and start to hydroplane. What should you do reduce the risk of this happening?

A road is likely to be most slippery

To perform parallel parking safely, you should have at least _______ car length(s) of space for your car to park.

Is this vehicle performing a U-turn legally?

A solid amber light at an intersection means you should

If a traffic light is not working at an intersection, you should

Maximum speed, if a sign is not posted, on paved highways, other than the Trans Canada Highway, is

To avoid the effects of glare when driving at night, you should

In this image, which vehicles are NOT likely to be visible to the truck driver?

Which of the following statements about passing on the right is FALSE?

To be more fuel efficient, a driver can