FREE Northwest Territories Driving Practice Test 2023 | NT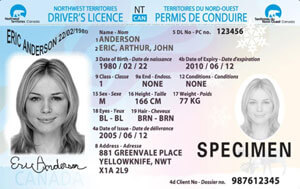 Based on 2023 NT driver's license manual
Instant feedback
The Northwest Territories participate in a Graduated Driver Licence Program that you may enroll in once you are at least 15 years of age. To begin, you must take a timed written knowledge test based on the 2023 NWT Basic Driver's Manual. Your exam will be comprised of two multiple-choice tests, one with questions based on rules of the road and the second on road signs. You will have 30 minutes in each test and must correctly answer a minimum of 16 of the 20 questions to pass. In addition to the knowledge exams, you'll also be required to take a standard vision test and provide proof of identification. You may then begin practicing driver with a Class 7 learner licence. The Class 7 licence will allow you to drive while under the supervision of a fully licensed driver with at least 24 months of experience. Novice drivers may not drive between 11 pm and 6 am, and there is a zero-tolerance policy for them driving under the influence. Once you have completed 12 months with a learner licence, you may apply to take a road test for your Class 5P probationary driver licence, which you must hold for an additional 12 months. Your written exam will cost $44, and your road test exam will be another $44. This Northwest Territories practice knowledge test can help you to study and feel prepared when it's time for you to take the real exam.
Perfect for:
Northwest Territories Learner's Permit
Northwest Territories Driver's License
NT Senior Citizens' Refresher Test
NT Driver's License Renewal.
What to expect on the actual NT exam:
40 questions
16+16 correct answers to pass
80% passing score
Minimum age to apply: 16
List of questions (classic view)
While driving, the holder of a Class 7 (Learners) licence must be supervised by

To become a Class 5P (probationary) driver, you must

The maximum speed limit outside a settlement or municipality is _______ unless otherwise posted.

What must you do at a steady amber traffic signal?

What does a flashing green arrow signal at an intersection mean?

This driver is using a hand signal. The driver intends to

A solid yellow line, whether single or double, indicates that

For an average driver, the sum of his or her perception time and reaction time equals about

When you back up in a straight line, you should look

When you park facing downhill, which way should you point your front wheels?

This sign would be posted to let drivers know that

At a stop sign, where must you stop?

If two vehicles arrive at a four-way stop at about the same time, which one should proceed first?

You are entering a traffic circle from a road with two lanes in your direction. If you intend to take the first exit from the traffic circle, you should

What does this sign indicate?

How should you check for vehicles in your blind spot?

You must turn on your headlights at night and whenever you can't see clearly

If you are approaching an emergency vehicle with flashing lights that is stopped on the side of the road, what should you do?

Under normal driving conditions, you should maintain a following distance of at least ________ behind the vehicle ahead of you.

This sign is warning of

Even during the winter months, your vehicle will be ready to drive after you warm it up for

In the daytime, you must attach a large red flag to the end of a load that extends more than _______ beyond the rear of your vehicle.

A motorcyclist will most likely travel

On an undivided roadway, you approach a stopped school bus with flashing red lights. What should you do?

What does this road sign mean?

If an emergency vehicle with flashing lights and a siren is approaching you on a one-way street, you should

If you're approaching a railway crossing and a train is approaching, you must stop at least _______ from the nearest rail.

For novice (Class 7 and Class 5P) drivers, the legal limit of blood alcohol concentration (BAC) is

If a fully licenced driver accumulates at least _________, his or her licence will be suspended.

If a driver in the GDL program accumulates at least 15 demerit points, he or she will face the following penalties