Alberta Learners Test Prep: FREE AB Learner's Practice Test 2023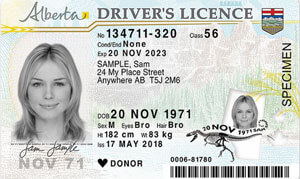 4.29 out of 5 • 3882 votes.
Based on 2023 AB driver's license manual
Instant feedback
This free practice test is designed to prepare you for the Alberta Learner's Test which is also called Class 7 Learner's Licence Test. It covers questions from a number of areas of the official Alberta Driver's Handbook and tests the basic road rules and driving techniques, parking rules and regulations, your knowledge of Alberta road signs, vehicle licensing and registration in Alberta. Updated for 2023. You will be given a choice between 4 options for each question. Read them carefully: even though they all may look similar to each other, shoot for the one that you feel would be best to answer that question. You will always know how you did on any particular question by either being transferred to the next one (if your answer was correct) or by seeing the immediate feedback and the correct answer (if you picked the wrong option). Feel free to click the 'Hint' link whenever you feel you could use some help in spotting the right answer. You can also click 'Start Over' at any time or upon completing the test to get even more practice and to grow confidence in Alberta driving rules. Remember, you are only allowed to make 5 mistakes to pass the official Learner's test (30-questions).
Perfect for:
Alberta Learner's Permit
Alberta Driver's License
AB Senior Citizens' Refresher Test
AB Driver's License Renewal.
What to expect on the actual AB exam:
30 questions
25 correct answers to pass
83% passing score
Minimum age to apply: 14
List of questions (classic view)
When you see a train sounding a signal and approaching within 500 metres, you must

When travelling on multi-lane highways, slower traffic should use

A Class 5 licence holder may NOT drive ________ except under supervision.

A driver who is 75 years of age or older must do which of the following to renew a licence?

Which of the following statements about vehicle insurance is true?

Before entering your vehicle, walk around it to check for

What is meant by the term "space cushion?"

If you need to brake hard in an emergency and your vehicle is equipped with antilock brakes (ABS),

What should you do if you see a flag person while driving?

When a pedestrian has indicated his or her intention to cross the street, you must

To exit a highway safely, you should

White or clear lights at the rear of a vehicle mean that

If you are planning to travel past the first exit on a two-lane roundabout or traffic circle, you should enter

What does this road sign mean?

Areas where you cannot see cyclists or other vehicles in your mirrors are called

When you've entered an acceleration lane before merging with highway traffic, you should NOT

Areas where the highway entrance and exit use the same lane are called

ABS in vehicles assists drivers in performing

Under Alberta law, cyclists under 18 years of age must wear

A vehicle ahead of you has flashing amber and red lights. The vehicle is most likely which of the following?

Underinflated tires may cause

A broken yellow line on your side of the road means that

Be cautious of large vehicles backing because

What is the correct hand signal for slowing or stopping?

On a multi-lane highway, slower traffic should travel in