FREE Yukon Driving Test Practice 2023 | YT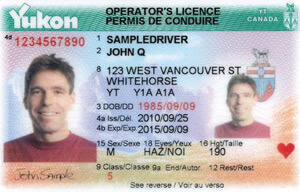 4.37 out of 5 • 70 votes.
Based on 2023 YT driver's license manual
Instant feedback
To get a driver's licence in the Yukon territory, you must complete their graduated driver's licence program, beginning with a written knowledge test to qualify for a Class 7 Learner's Licence. The knowledge exam is made up of two parts, each with 20 multiple-choice questions, based on the 2023
Yukon Driver's Basic Handbook: Cars and Light Trucks
. The two sections are split into basic driving knowledge and rules for safely operating a vehicle, and road signs. You'll need to score an 80% on each section to pass and get your Learner's Licence. You must be at least 15, pass your written knowledge test, and an eye exam to begin the licensing process. At your local Motor Vehicles office be sure to bring proof of your identity, residence, and a parent or legal guardian if you're under 18, as well as the $20 testing fee, and $50 fee for the physical licence. Once you've earned your Learner's Licence, you may begin practicing driving with a co-driver, who has held a full driver's licence for at least two years. You'll need to log a minimum of 50 hours of driving in a variety of conditions over at least six months before you may take your driving road test, for an additional $20. If you fail your written test on the first try, you may come back and try the next day again, but use this practice test as a helpful study guide to help you succeed on your first try.
Perfect for:
Yukon Learner's Permit
Yukon Driver's License
YT Senior Citizens' Refresher Test
YT Driver's License Renewal.
What to expect on the actual YT exam:
40 questions
16+16 correct answers to pass
80% passing score
Minimum age to apply: 16
List of questions (classic view)
To apply for a Class 7 learner's licence, a 17-year-old person does NOT need to bring

You can book your Class 5 road test only after you have logged ____ hours of supervised driving.

A Class 5 novice driver may drive a passenger vehicle with up to

You're approaching an intersection when the traffic light turns from green to yellow. What should you do?

A solid yellow line paired with a broken yellow line in the centre of a road means that

It is recommended that children under ____ years of age ride in the rear seat rather than the front seat.

This is a

You are in an intersection, waiting to turn left. Then the traffic light turns yellow. What should you do?

If you want to go straight through a two-lane roundabout, you should be in

Which letter can you see on an "Overdimensional" sign?

To turn right from a multilane street onto another multilane street, you should turn

Which statement about sharing the road with large trucks is FALSE?

When leaving your car parked on a hill, into which gear should you shift the transmission?

Following too closely behind another vehicle is known as

Two cars arrive at a four-way stop at about the same time. Which car should go first?

When approaching a curve, you should

Use caution when driving near big trucks because

If an emergency vehicle displaying flashing lights and sounding a siren approaches you, what should you do?

If you are in an intersection when an emergency vehicle displaying flashing lights and sounding a siren approaches you, what should you do?

Under wet conditions, hydroplaning is more likely to occur

A car can be carried away by moving water that is more than

When driving on ice, your braking distance is increased by a factor of

Under Yukon law, which of the following offences carry penalties of possibly heavy fines and up to 6 months in prison?

Low-beam headlights will light the area up to

In Yukon, a full driver's licence is valid for

If a vehicle is impounded because it was being driven by an unlicensed or impaired driver, who will be responsible for paying towing and storing charges?

Is this car legally parked?

What is lane tracking?

To exit a highway onto a curved exit ramp, what should you do?

What percentage of the collisions that cause injuries or fatalities occur at intersections?