FREE PEI Driver's Test Practice 2023 | PE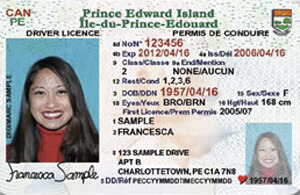 4.18 out of 5 • 38 votes.
Based on 2023 PE driver's license manual
Instant feedback
On Prince Edward Island, you are allowed to apply for your instruction permit starting at 16 years of age. You can study for the multiple-choice written test and sign recognition test for your instruction permit using the 2023
Prince Edward Island Driver's Handbook
. In order to take the instruction permit test, you must pay a $20 fee. If you pass, you will need to pay an additional $20 for your instruction permit, also known as your class 7 stage 1 licence. If you do not pass, you will need to wait at least seven days before you attempt to take the exam again. You will also need to pass an eye exam, bring proof of identity and residence, and parental permission if you are under 18. Once you have held your instruction permit for a full year, taken and successfully passed a Novice Drivers Course that costs $100, and taken and successfully passed a road test, you will be eligible for your full driver's licence. Your class 5 driver's licence will cost $20. In order to pass your instruction permit exam on the first attempt, so you don't have to wait an additional week or longer, Prince Edward Island permit practice tests like this one can help you familiarize yourself with the information from the handbook and road sign recognition.
Perfect for:
Prince Edward Island Learner's Permit
Prince Edward Island Driver's License
PE Senior Citizens' Refresher Test
PE Driver's License Renewal.
What to expect on the actual PE exam:
40 questions
16+16 correct answers to pass
80% passing score
Minimum age to apply: 16
List of questions (classic view)
A red "X" signal above your lane means that you should

Why is it dangerous to drive in a No-Zone of a big truck?

If you are convicted of failing to stop for a stopped school bus with its red lights flashing, ____ demerit points will be added to your driving record.

If your Class 7, Stage 1 licence (instruction permit) has been expired for more than one year but less than three years, what must you do before it can be reissued to you?

Which of the following statements about a child passenger who weighs 10–18 kg is FALSE?

This sign on a vehicle indicates that the vehicle is carrying

Who is responsible for ensuring that all passengers under 16 years of age in a vehicle wear seat belts or appropriate child restraints?

Which of the following child restraint seats must be used for a newborn?

You are approaching a main road from a driveway or side road. You should

If you are approaching a funeral procession, you must

What is the difference between yellow lines and white lines?

Intersection arrows (lane arrows) are always

These intersection arrows (lane arrows) mean that you may

This sign indicates that there is

What does this sign indicate?

This sign indicates that there is

In this image, the red car is in the right-hand lane and it is signalling right before entering the roundabout. What is the driver's intention?

Is this vehicle performing a U-turn legally?

Is this car legally parked?

All vehicles have blind spots in the

To back up your vehicle, you should

The driver of a disabled truck, heavy commercial vehicle or bus must place flares or warning lamps _______ ahead of it and behind it.

The vast majority of collisions involving motorcycles happen at

A red reflector on the rear of a bicycle must be visible from _______ to the rear.

An official Driver Rehabilitation Course includes which of the following?

Car B has entered an intersection to turn right on a red signal. Then Car A approaches the intersection on a green signal. Which of the following is true?

What do studies show about older drivers?

If you are the first to arrive at the scene of a collision, what is the first thing you should do after you park there?

"Rolling" a stop sign is

As a driver, you need to exercise care for the safety of pedestrians