FREE Manitoba Driving Practice Quiz 2023 | MB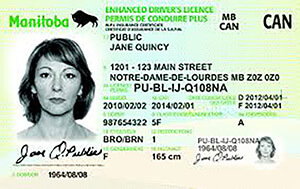 4.31 out of 5 • 482 votes.
Based on 2023 MB driver's license manual
Instant feedback
To begin driving in Manitoba, you'll need to pass a written knowledge test to prove your knowledge of road signs, safe driving practices, and traffic laws. The knowledge test is a timed multiple-choice test and based on information from the 2023 Manitoba Driver's Handbook. There will be 30 questions to be answered within 30 minutes, of which you must correctly answer at least 24 questions to pass and be eligible for your licence. Law states that you should be at least 16 years old to take the test and apply for your learner's licence or 15 ½ and currently enrolled in a school driver's education program. Manitoba has structured new drivers under the Graduated Driver Licence Program; you will be required to hold your learner's licence for a minimum of nine months before you may take the road test and move onto the intermediate stage for another 15 months, and then finally to a full stage licence. To take the written knowledge exam, you'll need to pay $10, and when it's time for your road test, it will be a $30 testing fee. Before you take your knowledge exam, you are required to register with Manitoba Public Insurance as a customer, usually with your local Autopac agent. Before you may receive your licence, you'll also need to provide proof of identity, parental approval if you're under 18, and purchase a licence for $20, as well as pay a base driver premium that can be up to $45. If you're not able to pass the test on your first try, you'll need to wait seven days before you can retest. Use this driver's practice knowledge test to help you study and make sure you're able to pass and get your licence.
Perfect for:
Manitoba Learner's Permit
Manitoba Driver's License
MB Senior Citizens' Refresher Test
MB Driver's License Renewal.
What to expect on the actual MB exam:
40 questions
16+16 correct answers to pass
80% passing score
Minimum age to apply: 16
List of questions (classic view)
Times listed on street signs are written based on a 24-hour timeclock. For example, 17:00 means

If two vehicles approach a four-way stop at the same time, the vehicle that has right-of-way is

Which of the following can warn you of a railway crossing ahead?

When making a left-hand turn at a light, you should

The most common accidents while merging on to an expressway are

You may cross a railway crossing when the warning lights are flashing, ONLY IF

Where is the largest blind spot of a transit bus located?

With railway crossings, it is illegal to

If the tires on one side of your vehicle drift off the edge of the roadway, what should you do?

Part of the road test involves demonstrating your backing-up skills in a vehicle. You will automatically fail the backing skill test if you

If you're parking on a hill without a curb, you should prepare your car by

Your vehicle's equipment must be working condition or you may have your registration suspended until they are fixed, including the

Approximately how many collisions caused by animals on the road, especially deer, are there in Manitoba each year?

After you drive through a large puddle of water, your brakes may become wet and fail unless you dry them. You can dry your brakes by

If you've imbibed too much alcohol and need to drive, the best thing to do is

If you are on a single- or two-lane road and come to an intersection with a divided highway or a roadway with three or more lanes, you must

On a Manitoba winter road leading to remote northern communities, you will not find

A yield sign indicates that you should

At a flashing amber traffic light, you should

A double solid yellow line means

What is a driving distraction?

Before changing lanes, you should

You can take a left onto a two-way street when the light is red if

You may pass a vehicle on the right if

When exiting an expressway, you should slow down

How can you reduce the environmental consequences of driving?

If you are blocking the path of an alarming emergency vehicle, while being stopped at a red light or stop sign, you should

Pedestrians have right-of-way at

If a car ahead of you has stopped for a pedestrian, you should

For angled parking, you should be most cautious