FREE Quebec Driving Practice Test Two 2023 | QC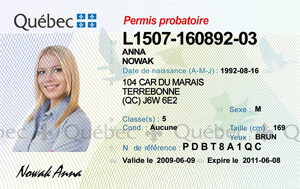 4.26 out of 5 • 164 votes.
Based on 2023 QC driver's license manual
Instant feedback
To graduate from your learner's licence to a Class 5 probationary licence in Quebec, you'll need to be at least 16 years of age, complete an approved driving course, have parental consent, and pass written and driving tests. You are eligible for the written knowledge test once you have held your learner's licence for at least ten months. The exam is based on three driver's manuals: the 2023 Quebec Driver's Handbook, the Driving a Passenger Vehicle manual, and the Road Access Binder. The test is divided into three parts, and you'll need to pass each section to be eligible for your probationary licence. A passing score for each category requires correctly answering 13 of the 16 questions on rules and regulations, 13 of the 16 questions on road signs and signals, and 26 of the 32 questions on road situations and behaviours. You can make an appointment with your local SAAQ service outlet online or over the phone for your test. Be sure to bring your learner's licence and the $11.20 fee with you on test day; credit cards are not accepted. If you're not able to pass the test on your first attempt, you'll need to come back after 28 days to try again. Once you've passed your written exam, and after holding your learner's licence for 12 months, you may take your driving test as the final step for your probationary licence. The driving test will cost $28, and the probationary licence will be $174.88. You can complete your studies to prepare for the written knowledge test by using practice tests like this one to help you retain the information and see what a real exam will be like beforehand.
Perfect for:
Quebec Learner's Permit
Quebec Driver's License
QC Senior Citizens' Refresher Test
QC Driver's License Renewal.
What to expect on the actual QC exam:
64 questions
13+13+26 correct answers to pass
80% passing score
Minimum age to apply: 16
List of questions (classic view)
To get any driver's licence, including a learner's licence, you will need to present

Your learner's licence or probationary licence will be revoked if you get

This sign is a

If you are under age 23 with a regular driver's licence, the maximum amount of demerit points you can receive before your licence is revoked is

When you practice driving, you must be accompanied by an individual who has held a valid driver's licence for a minimum of

The colours of flashing lights denote specific types of responders. Rotating and flashing blue lights are reserved for

This sign indicates that

Radar detectors are

In cases of a required mechanical inspection where a minor repair is needed, drivers will have

When driving on a road, the lane colours marking the road show

Inside of a school zone, the maximum speed limit is

This sign

On highways, the minimum and maximum speeds are

Unless posted otherwise, the maximum speed for travelling through towns, cities, and villages is

A left turn at an intersection should be made from

If a car, cyclist, and a pedestrian are at an intersection governed by a stop sign, right-of-way belongs to

When parking on the side of a road, you should be no more than

This warning sign tells drivers that

You may not park in a crosswalk, but you may stop there to

You must yield to a bus re-entering the lane on public roads with a maximum speed under

Dangerous areas to drive your vehicle in relation to a large truck are

For safety, bicycles must have

Bicyclists in groups should ride

A red flag, reflector, or light if driving at night, must be placed on the back of a load extending

Drivers who are the first to arrive on the scene of an accident should park

Failing to stop before turning right at a red light will result in

This sign is a

Learner's licence holders must have a full licence holder or instructor

Drivers who fail a physical coordination test will

A larger number of accidents happen during