Driving Test Practice: PEI 2023 | PE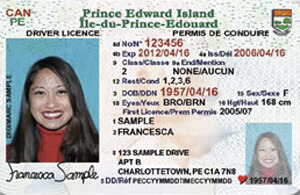 Based on 2023 PE driver's license manual
Instant feedback
You will need to be 16 years of age to apply for your Prince Edward Island instruction permit to drive, also known as a Class 7 Stage 1 driver's licence. In order to receive this licence, you will need to pass a multiple-choice written or oral exam, available in several languages, which is based entirely on information contained in the 2023
Prince Edward Island Driver's Handbook
. The test will also include road sign recognition. You are required to pay a $20 fee to take the exam, and if you do not pass, you will need to wait at least seven days to retake it. If you do pass, you will need to pay $20 for your instruction permit. In addition to passing the written test, you'll need to pass a vision test and bring proof of your residence and identity, as well as a form of parental permission if you are under 18 years of age. Once you have your instruction permit, you will need to start preparing to get your full licence, including taking an approved Novice Driver course, which will cost $100. Once you've taken the course, you'll need to pass a road test before you can get your full class 5 licence. If you pass the road test, you can then pay a $20 fee and get your full driver's licence. When it's time to prepare for your written instruction permit test, taking practice tests like this can prepare you, as they cover the same information you'll find on the official exam.
Perfect for:
Prince Edward Island Learner's Permit
Prince Edward Island Driver's License
PE Senior Citizens' Refresher Test
PE Driver's License Renewal.
What to expect on the actual PE exam:
40 questions
16+16 correct answers to pass
80% passing score
Minimum age to apply: 16
List of questions (classic view)
In Prince Edward Island, you may use studded tires

In Prince Edward Island, you must dim your headlights to low beam whenever you are within ________ of a vehicle you are following.

Two solid yellow lines in the center of the road mean that passing is

If a driver who is convicted of impaired driving is considered a habitual offender, which of the following is true?

If a police officer finds that a GDL driver has any measurable level of blood alcohol in his or her system, the officer can immediately suspend the person's licence for

If a police officer charges you with impaired driving, he or she has the authority to suspend your driver's licence for

You plan to turn left in a roundabout. How should you signal?

Which car is NOT using the roundabout correctly?

When you parallel park, you must park your vehicle within ________ of the curb.

As you approach and enter an acceleration lane,

If a tire blows out, you should NOT

You're driving in the right-hand lane of a highway when you spot a vehicle preparing to merge on your right. You should

The pavement is likely to be most slippery

If you are convicted of using a hand-held phone while driving, you will be fined up to

You are parking next to a curb, facing uphill. Which way should you point your front wheels?

You are parking next to a curb, facing downhill. Which way should you point your front wheels?

Which of the following statements about vision tests is FALSE?

In a typical passenger car, partial hydroplaning can begin at speeds as low as

To recover from hydroplaning, what should you do?

When merging onto a highway, you reach the end of the acceleration lane. What should you do at this point?

If you refuse to submit to a chemical test for alcohol or drugs upon the request of a police officer, your driver's licence will be cancelled for _______ for a first offence.

In Prince Edward Island, if you are convicted of impaired driving with a blood alcohol content (BAC) of 0.08% or more and it was your second such offence, your licence will be cancelled for

Which of the following offences carries the FEWEST demerit points?

If you are convicted of speeding at less than 30 km/h over the legal speed limit, ____ demerit points will be added to your driving record.

If you are convicted of failing to wear a seat belt while driving, ____ demerit points will be added to your driving record.

If you accumulate ____ or more demerit points, your licence will be suspended for three months.

If you are convicted of speeding at between 30 and 59 km/h over the legal speed limit, ____ demerit points will be added to your driving record.

If you are convicted of criminal negligence involving the use of a motor vehicle, ____ demerit points will be added to your driving record.

If you are found guilty of _________, three demerit points will be added to your driving record.

Newly licensed drivers undergo a probationary period of