Quebec Marathon [76 Hardest Questions] | QC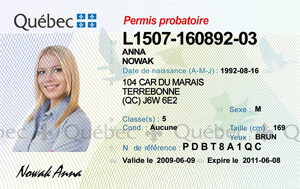 This massive Marathon is special. It contains all 76 of our most challenging questions from the "hardest" tests, but that's not all. It was designed to help you maximize your knowledge of the material, covering all the "blind spots" you might have. So if you make a mistake as you work your way through the Marathon, the system will remember that you got it wrong and will show you that question once again at a later point -- until you finally provide the correct answer. If at any point you feel that you need to practice in a more controlled environment, just go back to our regular tests -- every time you make a mistake in one of those, the system marks your answer as wrong and prompts you the correct answer, complemented by an explanation of why it is so. Once you've passed this Marathon test, you can be sure that you did everything possible to succeed!
Perfect for:
Quebec Learner's Permit
Quebec Driver's License
QC Senior Citizens' Refresher Test
QC Driver's License Renewal.
What to expect on the actual QC exam:
64 questions
13+13+26 correct answers to pass
80% passing score