Saskatchewan SGI Practice Test Four (2023) | SK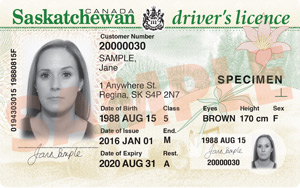 This fourth Saskatchewan SGI driving practice test contains 30 questions based on the facts from the official Saskatchewan Driver's Guide. It will test your basic knowledge on road signs and rules of the road. Each of the 40 questions contains four answers, and only one of them is the BEST choice. Please choose the best answer and click it to see if you're right. You are required to score a
minimum of 32 out of 40 questions
to pass the official Saskatchewan SGI Knowledge Test.
Perfect for:
Saskatchewan Learner's Permit
Saskatchewan Driver's License
SK Senior Citizens' Refresher Test
SK Driver's License Renewal.
What to expect on the actual SK exam:
50 questions
24+16 correct answers to pass
80% passing score
Minimum age to apply: 16
List of questions (classic view)
If a vehicle ahead of you is stopped at a crosswalk, you should

The level of impairment from consuming two alcoholic drinks and smoking one marijuana joint equals the level of impairment from consuming ______ alcoholic drinks.

Your driving abilities can be impaired by

When parallel parking, choose a space that is at least _______ longer than your vehicle.

If you are having vehicle trouble on a freeway and need to stop, what should you do?

You are approaching an intersection with a solid amber light. You should

A flashing amber light indicates that you must

A flashing red light indicates that you must

While driving in rain, snow or fog, you should use

Which of the following are signs of aggressive driving?

What should you do if another driver tailgates your vehicle?

What is the best way to handle a curve?

When driving on a wet or slippery road, you should avoid using your

You should AVOID using cruise control

When parking your vehicle facing downhill next to a curb, you should point your front wheels

You have parallel parked next to a curb, facing uphill. Which way should you point your front wheels?

What does the expression "overdriving your headlights" mean?

To leave a freeway, you should

When should you be especially on the lookout for wild animals on or near the road?

Which of the following can cause a skid?

During the first few snowfalls of the season, you should increase your following distance to

If you get stranded in your vehicle during a blizzard, you should

Under ideal driving conditions, you should maintain a following distance of ________ behind the vehicle ahead of you.

Safe winter driving requires

Which of the following is the main cause of collisions in the winter?

How does this sign regulate traffic?

What does this sign indicate?

What is the meaning of this sign?

Three cars arrive at an intersection. Two of them encounter yield signs. Who has the right of way here?

Which type of parking is most often used in parking lots?