FREE SGI Practice Test for Saskatchewan Driving Knowledge Exam (2023) | SK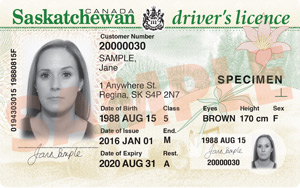 You'll need to ace both parts of the official Sask. Class 7 driving knowledge test in order to get your Novice 1 licence. You'll be answering 40 questions in total and you need to get 32 correct. There are three stages to Saskatchewan's Graduated Driver's Licensing Program: Learner, Novice 1 and Novice 2.This practice test contains 30 questions based on the same facts from the official Saskatchewan Driver's Guide. We'll test your basic knowledge on road signs and rules of the road. Each of the 40 questions contains four answers.
Perfect for:
Saskatchewan Learner's Permit
Saskatchewan Driver's License
SK Senior Citizens' Refresher Test
SK Driver's License Renewal.
What to expect on the actual SK exam:
50 questions
24+16 correct answers to pass
80% passing score
Minimum age to apply: 16
List of questions (classic view)
Vehicles approaching a roundabout must

Which car is NOT using this roundabout correctly?

Always use _________ when exiting a roundabout.

When turning left from a one-way street onto another one-way street, you should turn from

Which of the following statements about highway driving are FALSE?

When you come to a stop sign in an urban area, you must stop your vehicle

What is special about the flow of traffic in a diverging diamond interchange?

Which of the following statements about a diverging diamond interchange are TRUE?

You are driving at night when you suddenly notice something on the road ahead of you. What should you do?

When more than one vehicle arrives at a four-way stop, which one has the right of way?

When driving in a parking lot, you must

In Saskatchewan, which of the following statements about thoroughfares are true?

When entering a street from a private road or alley, you must

Where are zipper merge maneuvers typically employed?

Most members of SADD are

You are entering a roundabout and planning to take the third exit. You should drive in

When can you safely share a lane with a motorcycle?

To steer straight ahead, look about ________ directly ahead.

When travelling down a mountain road, you should

When steering around a curve, look

Who is legally responsible for ensuring that all the passengers under 16 wear seatbelts or appropriate child safety restraints?

According to Saskatchewan law, _________ must wear seatbelts or appropriate child restraints.

You're driving on a freeway. If you miss your exit, what should you do?

Which of the following statements about backing up are FALSE?

You are driving in heavy traffic and must stop in your lane. You must NOT stop

What does this sign indicate?

This service sign shows the location of

What does the following pavement marking mean?

What do broken white lines indicate?

Car A is turning right on a red light. At the same time, a pedestrian starts to cross the road that the car is about to enter. Which one must yield?