Saskatchewan Learners Licence Practice Test 2023 | SK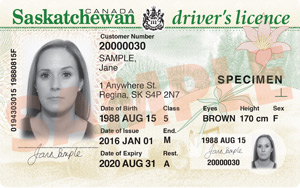 4.36 out of 5 • 73 votes.
Based on 2023 SK driver's license manual
Instant feedback
This fifth Saskatchewan SGI driving practice test contains 30 questions based on the facts from the official Saskatchewan Driver's Guide. It will test your basic knowledge on road signs and rules of the road. Each of the twenty-five questions contains four answers. Remember: there'll be 40 questions on the official Sask. knowledge exam (two sections), and you'll be required to score a
minimum of 32 out of 40 questions
to pass. Good luck!
Perfect for:
Saskatchewan Learner's Permit
Saskatchewan Driver's License
SK Senior Citizens' Refresher Test
SK Driver's License Renewal.
What to expect on the actual SK exam:
50 questions
24+16 correct answers to pass
80% passing score
Minimum age to apply: 16
List of questions (classic view)
If your accelerator sticks, the first thing you should do is

Airbags inflate in collisions at speeds over

If you are found to be operating a vehicle in violation of the traffic laws, the police may seize and impound the vehicle

Why is it recommended that you back into a 90-degree angle parking space?

To recover from a skid, you should

If you drift off the pavement and start to enter a ditch, what should you do?

Wearing a seatbelt can decrease your chances of being seriously injured in a collision by as much as

If your right wheels drop onto a soft shoulder, what should you do?

When entering a freeway from an acceleration lane, you must

Two cars arrive at a four-way stop at about the same time. Which car should go first?

What does this sign indicate?

Your traffic light has turned green while a pedestrian is still in the crosswalk. What should you do?

What does a green arrow signal indicate?

You are approaching an intersection. You intend to turn right, but there is a vehicle near the intersection that is parked next to the right curb. What should you do?

What is the best braking technique on wet or icy surfaces?

A solid yellow line on your side of the road means

You see a pedestrian about to jaywalk. What should you do?

Which of the following statements about unmarked crosswalks is true?

You are allowed to make a U-turn if

Which of the following statements about passing on the right is FALSE?

The pavement markings in this image indicate that

When approaching this sign, you should

Your hand-held cellphone rings while you're driving. What should you do?

If you cannot avoid colliding with an animal, what should you NOT do?

If your vehicle's brakes fail and the vehicle is relatively modern, what should you NOT do?

This sign is showing that

What does this road sign mean?

Centre turning lanes are used for

Which of the following are common contributing factors to collisions?

Which of the following is an example of a potential hazard?