Alberta Driving Test Prep: FREE AB Driver's Practice Test 2023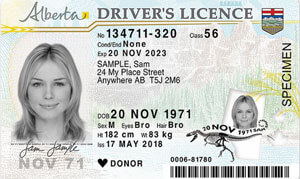 4.33 out of 5 • 6293 votes.
Based on 2023 AB driver's license manual
Instant feedback
This free Alberta Driving Practice Test (updated for 2023) covers the basic questions on most important road signs, road rules, driver's behaviour and parking techniques in Alberta, as well as vehicle licensing and registration information. The questions have been designed based on the official Alberta Driver's Handbook, each question offers 4 multiple-choice options, one of which is the best answer. Click the 'Hint' link if you aren't sure about any particular question. To pass the test, you will need to score a minimum of 25 out of 30 questions offered by this practice test. You can always hit 'Restart' and restart the test if you feel that there are questions that you need to go over again. Good luck!
Perfect for:
Alberta Learner's Permit
Alberta Driver's License
AB Senior Citizens' Refresher Test
AB Driver's License Renewal.
What to expect on the actual AB exam:
30 questions
25 correct answers to pass
83% passing score
Minimum age to apply: 14
List of questions (classic view)
The Graduated Driver Licensing (GDL) program will improve road safety by

If you are under the age of 18, you must have _________ to obtain a learner permit or driver licence.

The holder of a Class 6 operator's licence may operate which of the following vehicles?

If a fully-licensed driver's breath test shows a breath alcohol concentration between 0.05% and 0.08% and it was your first such offence,

To pull out of a parking space, you should

What does the following sign indicate?

What does the following sign indicate?

What does this sign mean?

What is the purpose of route marker signs on roads?

A solid white line next to your lane means

If you see a red "X" above your lane, you should

Properly positioned head restraints can greatly reduce

The stopping distance of a vehicle equals

______ parking is most often used in parking lots.

When leaving a roundabout or traffic circle, you should

What does the following sign indicate?

To turn right from a two-way road onto another two-way road, what should you do?

In urban areas, U-turns are permitted at which of the following locations?

The shoulder of a highway is intended for

If someone is passing you on a two-lane highway, you should

When leaving a highway, you should use _________ to slow down.

If you get a flat tire while driving, you should

What does "skidding" mean?

When you are driving behind another vehicle, you should maintain

You must signal when you are