G1 Test Practice: Free ON "Drive Test" G1 Practice Test 2023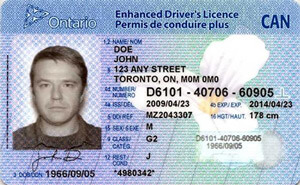 4.42 out of 5 • 326 votes.
Based on 2023 ON driver's license manual
Instant feedback
This is our most popular G1 practice test. Once you turn 16, you may visit a Drive Test location and test for the Ontario G1 licence with a written knowledge test that contains 40 multiple-choice questions. Your G1 test will be divided into two parts: 20 questions on road signs, and 20 questions on rules of the road. You must correctly answer 16 questions in each section to pass the test. In addition to the written exam, you will also need to pass a vision test and pay a $158.25 package fee, which will cover your knowledge test, eventual G2 driver's test, and your five-year licence. If you need to retake the written exam, it will be an additional $15.75. The Ontario G1 driver's test is based on the 2023 Ontario Driver's Handbook and questions from the test will be pulled directly from the guide. Ontario has set in place a graduated driver's licence (GDL) program that takes about two years to complete. After you pass your written test at Drive Test, you must hold your G1 licence for one year, or 8 months if you are enrolled in a driver training program before you may take your first drive test to qualify for a G2 licence. The G1 licence will allow you to practice your driving skills under the supervision of a fully licensed driver. Our G1 practice tests use the same scoring system as the Drive Test centres across the province, so there will be no surprises when you go there. The G1.ca users have reported that these questions are almost identical to the real ones (although, of course, there's really no way to know which set of questions you personally will get on the real exam).
Perfect for:
Ontario Learner's Permit
Ontario Driver's License
ON Senior Citizens' Refresher Test
ON Driver's License Renewal.
What to expect on the actual ON exam:
20+20 questions
16+16 correct answers to pass
80% passing score
List of questions (classic view)
What does this road sign mean?

What does this road sign mean?

What does this road sign mean?

What does this construction sign mean?

What does this road sign mean?

What does this road sign mean?

What does this road sign mean?

What does this road sign mean?

What does this road sign mean?

This symbol indicates

What does this road sign mean?

What does this road sign mean?

What does this sign mean?

What does this road sign mean?

What does this road sign mean?

What does this road sign mean?

What does this road sign mean?

What does this road sign mean?

What does this road sign mean?

What does this sign mean?

While driving, you receive a call on your hand-held cell phone. There are no passengers who can take the call for you. What should you do?

When you are in a roundabout,

If you are convicted of careless driving, you will receive six demerit points and you may face

While driving on a two-way street, you hear the siren of an approaching emergency vehicle. What does the law require you to do?

When passing a cyclist, you must leave at least ____ of space between your vehicle and the cyclist.

Under what circumstances may a driver's licence be cancelled?

A G2 driver age 19 or younger who has more than 6 months of driving experience may carry ____ unrelated passenger(s) age 19 or younger between midnight and 5:00 a.m.

In Ontario, when driving at night, you must dim your headlights

Upon approaching a yield sign, what must you do?

If the signal light changes from green to yellow (amber) as you approach an intersection, what should you do?

If a fully licensed driver accumulates 15 or more demerit points on his or her record, the driver's licence will be suspended for

If you are involved in an accident in which someone is injured, you must

If you are convicted of fleeing a police officer who signaled you to pull over, your licence will be suspended for

At an intersection, the traffic light is red, but a police officer motions you to go through. What should you do?

A G1 or G2 driver who is caught drinking and driving will face which of the following penalties?

If one of your tires suddenly blows out while you're driving, what should you do?

When approaching a Merging Traffic sign, you should

If you are approaching an intersection at which the traffic lights are not working, you should

A flashing green light at an intersection where left and right turns are permitted means

If you change your name or address, you must notify the Ministry of Transportation within