FREE NWT Learner's Practice Test 2019 | NT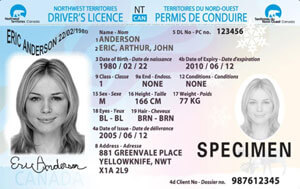 Northwest Territories Driver's Licence
This free practice test contains 40 most common questions similar to those asked at the NWT knowledge test. There are two sections, and you can make up to 4 mistakes in each of them to pass. When in doubt, feel free to use the hint at the bottom of each question, but if that does not help, and your answer is incorrect, you will get an immediate feedback showing you the correct option. If your answer is right, you will be directed to the next question, and you will see the one you have answered marked green in the progress grid on the left. Good luck!
We're preparing your test...
Your Progress
8 mistakes allowed to pass
Passing score required: 80%
Challenge Bank

0
Heads up! We've just added this question to your Challenge Bank - a special test that automatically stores all your missed questions.
Back to the NT menu
Show comments
Northwest Territories Driving Test Fact Sheet
| | |
| --- | --- |
| How many questions: | 40 |
| How many correct answers to pass: | 16+16 |
| Passing score: | 80% |
NT Driver's Handbook
View the most recent (2019) official NT Driver's Licence Handbook.
Explore