FREE Yukon Practice Driving Test 2023 | YT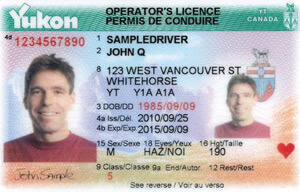 Once you're 15, you may start the process to become a licensed driver in the Yukon. To begin, you must be able to pass a written knowledge test based on the 2023
Yukon Driver's Basic Handbook: Cars and Light Trucks
. The test is divided into two sections of 20 multiple-choice questions, one on road signs and the other on rules for safe driving. You must pass each individual portion of the test, missing no more than four questions from each section to qualify for a Class 7 Learner's Licence. At the Motor Vehicles office near you be prepared to take your knowledge test, and an eye exam, as well as provide proof of identity and residence, and have a parent or guardian that can provide approval if you are under 18. The knowledge test may be taken in 5 languages, including French and English, or may be taken in an oral format if needed. Be sure to arrive at least an hour before your local MV office closes or you may not be allowed to begin testing. Your knowledge test will cost $20, plus an additional $50 for your physical licence if you pass. When it is time to take your road test for your novice licence that will also be another $20. This practice written knowledge test can help you to study and achieve your Learner's Licence; if you have trouble and are not able to pass your test on the first try you can come back the next day to test again, but you'll have to repay the exam fee.
Perfect for:
Yukon Learner's Permit
Yukon Driver's License
YT Senior Citizens' Refresher Test
YT Driver's License Renewal.
What to expect on the actual YT exam:
40 questions
16+16 correct answers to pass
80% passing score
Minimum age to apply: 16
List of questions (classic view)
In Yukon, how can you prepare your vehicle for winter driving?

Safe driving habits can reduce your fuel consumption by as much as

A double solid yellow line in the centre of a road means that

This lane is for

When two or more vehicles arrive at an uncontrolled intersection or a four-way stop at about the same time, which vehicle should be given the right-of-way?

If two vehicles approach an uncontrolled intersection from opposite directions at the same time, one going straight while the other is turning left, which vehicle has the right-of-way?

To use a traffic circle or a roundabout, you should

On freeways with more than two lanes in each direction, cars should usually travel in the

On a highway, an acceleration lane and merging area are

If you're parking on a hill without a curb, which way should you point your front wheels?

In Yukon, which of the following statements about approaching an intersection with a red traffic light is FALSE?

A light that has just turned green is called

Some intersections have special yield lanes used for

When are you allowed to enter a high-occupancy vehicle (HOV) lane even if you're not transporting any passengers?

A properly positioned head restraint can greatly reduce

You are driving on an undivided two-way road. If a school bus has stopped and turned on its flashing red lights, what should you do?

If an emergency vehicle displaying flashing lights and sounding a siren is travelling on the opposite side of a divided highway, you should

Drivers in the Graduated Driver's Licence program may not use which of the following while they're driving?

If you drive through a large puddle of water, your brakes may become wet. How should you dry the brakes?

What does this sign indicate?

Ice is more likely to first appear on

A tire that looks like this is

If a large animal is in the road, and you are unable to stop in time or steer around it, what should you do?

In which of the following situations can you pass a vehicle on the right?

How should you enter a freeway?

In this image, you are driving Car B in the right lane of this freeway. Car A is trying to merge onto the freeway. What should you do?

While driving, you're unable to see ahead because of fog, a hill, or a large vehicle in front of you. This is known as

You have come to a complete stop at a steady red traffic light in Yukon. Are you allowed to turn?

Checking your blind spots is particularly important

What does it mean when a visually impaired person on the side of the road raises his or her cane?