FREE Manitoba Class 5 Knowledge Test Practice 2019 | MB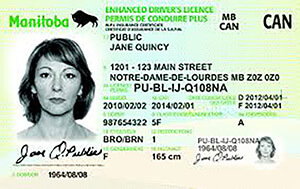 Manitoba Driver's Licence
The Manitoba written knowledge test is made up of 30 multiple-choice questions pulled from the 2019 Manitoba Driver's Handbook. You will have just 30 minutes to complete the test and must score an 80% or higher, by missing no more than six questions. To be eligible to take the written exam and start the Graduated Driver's licence Program with a learner licence, you have to be at least 16 years old, or 15 ½ with a completed Driver Education Form. Before you may take the written exam, you'll be required to register as a customer with Manitoba Public Insurance, and then pay a $10 testing fee. If you pass, you'll need to pay an additional $20 for your licence and up to $45 as a base driver premium. You are also required to pass a standard vision test and provide proof of identity, and parental consent if you are under 18. Once you've held your learner licence for at least nine months, you may be eligible to take your road test and move on to the intermediate stage of the GDL Program. Your road test will be an additional $30 when it's time to test. Knowledge tests are by appointment only; you can make your appointment with your local Autopac agent when you are registering as an MPI customer. Tests are available in both English and French, as well as 20 other languages, if you require. This written knowledge practice test will help you prepare for the real exam and make sure you don't have to wait to retest. The waiting period between written exams is seven days.
Your Progress
6 mistakes allowed to pass
Passing score required: 80%
Challenge Bank

0
Heads up! We've just added this question to your Challenge Bank - a special test that automatically stores all your missed questions.
Back to the MB menu
Show comments
Manitoba Driving Test Fact Sheet
| | |
| --- | --- |
| How many questions: | 40 |
| How many correct answers to pass: | 16+16 |
| Passing score: | 80% |
MB Driver's Handbook
View the most recent (2019) official MB Driver's Licence Handbook.
Explore