FREE Manitoba Class 5 Knowledge Test Practice 2023 | MB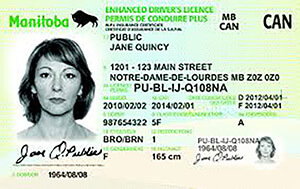 4.4 out of 5 • 344 votes.
Based on 2023 MB driver's license manual
Instant feedback
The Manitoba written knowledge test is made up of 30 multiple-choice questions pulled from the 2023 Manitoba Driver's Handbook. You will have just 30 minutes to complete the test and must score an 80% or higher, by missing no more than six questions. To be eligible to take the written exam and start the Graduated Driver's licence Program with a learner licence, you have to be at least 16 years old, or 15 ½ with a completed Driver Education Form. Before you may take the written exam, you'll be required to register as a customer with Manitoba Public Insurance, and then pay a $10 testing fee. If you pass, you'll need to pay an additional $20 for your licence and up to $45 as a base driver premium. You are also required to pass a standard vision test and provide proof of identity, and parental consent if you are under 18. Once you've held your learner licence for at least nine months, you may be eligible to take your road test and move on to the intermediate stage of the GDL Program. Your road test will be an additional $30 when it's time to test. Knowledge tests are by appointment only; you can make your appointment with your local Autopac agent when you are registering as an MPI customer. Tests are available in both English and French, as well as 20 other languages, if you require. This written knowledge practice test will help you prepare for the real exam and make sure you don't have to wait to retest. The waiting period between written exams is seven days.
Perfect for:
Manitoba Learner's Permit
Manitoba Driver's License
MB Senior Citizens' Refresher Test
MB Driver's License Renewal.
What to expect on the actual MB exam:
40 questions
16+16 correct answers to pass
80% passing score
Minimum age to apply: 16
List of questions (classic view)
When you approach a stop sign, you must

While driving, it's recommended to have your hands placed in the

This sign is showing that

Entering a roundabout, you should check for vehicles coming from

The merge lane on to an expressway should be used

This sign is alerting you that

When a lane is closed ahead, drivers should zipper merge by

Which of the following is NOT a way to let traffic know you are preparing to parallel park?

When parking on a hill with a curb, if your car is facing uphill, you should

When sharing the road with a transit bus, you should be aware of which of the following?

You are not allowed to park on a curve of a road outside a city, town or village, if your vehicle cannot be clearly seen for at least ________ in each direction.

To pass a slow moving vehicle in a hilly area, you should

If you see a wild animal in your path while driving, you should

In case of a collision, you should

It is especially dangerous to drink alcohol and drive at night because

This construction sign is showing you that

Which of the following is NOT an effect of alcohol?

The minimum age for a class 1, 2, 3, or 4 licence is

If you are in an intersection when the traffic light turns amber you should

If a traffic light has a lit green left-arrow AND a lit solid red light that means you can

A solid white line means

Which of the following is NOT a legal manoeuvre?

When driving a vehicle, you must be particularly careful around bicyclists because they

At a roundabout, the right-of-way belongs to

Driving directly next to a big truck is considered a No-zone because

If an emergency vehicle is flashing lights and sounding an alarm while you're driving on a one-way street you should

If you need to make a right turn, but a transit bus has stopped just short of the intersection on the right hand side, you should proceed by

The orange hand on a crosswalk light means pedestrians should

Bicyclists should position themselves on the right side of the roadway, but may change position if

According to the Manitoba Driver's Handbook, what is the most common cause of vehicle fires?