Newfoundland and Labrador Virtual 360° Road Situations Test | NL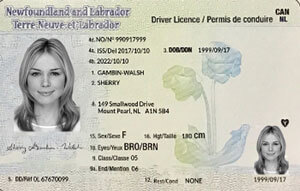 Based on 2023 NL driver's license manual
Instant feedback
Getting ready to drive in Newfoundland and Labrador and wondering how you can learn the actual driving part without leaving the comfort of your your home? When you are sitting behind the wheel of a car, your peripheral vision (the "blind-spot mirror" you were born with) actually lets you view much more than just what's directly in front of you. Without turning your head, you are able to sense every movement to your left or right and react immediately when necessary. This new Virtual 360° Road Situations test provides an immersive 360° behind-the-wheel-like experience and an opportunity to explore road situations from various angles. Double-click on an image to zoom in on the details. You'll get 27 situational questions, each of them offers four answer options. Each question comes with a hint and an explanation.
Perfect for:
Newfoundland and Labrador Learner's Permit
Newfoundland and Labrador Driver's License
NL Senior Citizens' Refresher Test
NL Driver's License Renewal.
What to expect on the actual NL exam:
40 questions
34 correct answers to pass
85% passing score
Minimum age to apply: 16
List of questions (classic view)
Slowing down to look at accidents, road construction, or vehicles stopped on the side of the road

Yellow lines separate

Which statement about motorcycles is true?

As you are entering an intersection, you see the traffic light turn yellow. What should you do?

When you're driving at the same speed as a vehicle in the lane next to you, what is the safest place for you to be?

When can you legally park your car in front of a driveway?

You are on a freeway, and traffic is merging into your lane. You should

If there is no crosswalk but a pedestrian is crossing your side of the road, you should

When changing lanes on a freeway, you should

When you're following a large truck, you should leave more space in front of your vehicle because

You want to make a right turn at an upcoming intersection. You should

You have a green light, but other vehicles are blocking the intersection. What should you do?

When are you allowed to drive in a bike lane?

Who has the right-of-way at this intersection?

When waiting to make a left turn at an intersection,

You see these signs, but there are no pedestrians around. What should you do?

Are you allowed to turn left here?

This silver car is backing out of a parking space. What should its driver be doing?

You're approaching this intersection and the light is green. Can you go straight through?

You're driving in the right lane, but you need to turn left at the upcoming intersection. Can you change lanes at this time?

You've just completed a left turn into this street. Are you driving in the correct lane?

Can the vehicle ahead of you legally drive on the left side of this street?

You see a vehicle stopped on the shoulder. What should you do?

On a divided highway, a solid yellow line

Which of the following is true about this intersection?

You're in the middle of an intersection, about to turn left. The traffic light turns yellow, but an oncoming car is still completing its maneuver. What should you do?

You see this sign. What does it mean?