Class 7 Learner's Practice Test: NWT 2023 | NT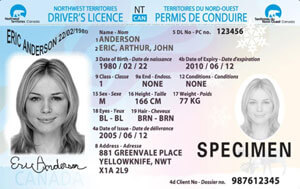 Based on 2023 NT driver's license manual
Instant feedback
To begin driving in NWT, you'll need to qualify for a Class 7 licence by passing a written knowledge test. Your offical knowledge exam will have two parts: 20 road rules questions and 20 road signs questions. You'll have 30 minutes provided for each part. You'll be eligible to take the official knowledge test once you hit 15 years old. This Northwest Territories driving practice test is an interactive quiz that is designed to help you prepare for your Class 7 exam. It will teach drivers the most important parts of driving that they'll need for their knowledge test. The questions are based on the official driver's manual.
Perfect for:
Northwest Territories Learner's Permit
Northwest Territories Driver's License
NT Senior Citizens' Refresher Test
NT Driver's License Renewal.
What to expect on the actual NT exam:
40 questions
16+16 correct answers to pass
80% passing score
Minimum age to apply: 16
List of questions (classic view)
On a multi-lane highway, slower vehicles should use

You must signal whenever you intend to

When can you use the shoulder of a highway?

When approaching a weave zone, be prepared for other vehicles

You're driving on a two-lane highway, and the driver behind you is trying to pass you. You should

What does this sign indicate?

When waiting to make a left turn at an intersection,

It is the driver's responsibility to make sure that _________ wear their seat belts.

If your right front tire goes flat, you will feel your vehicle

When driving in fog, rain, or snow, use your

If you are stranded on a snowy day in winter, you should

Under the Criminal Code of Canada, if you are convicted of impaired driving, you will face which of the following penalties for a first offence?

_________ can impair your driving.

What will help a drunk person sober up?

If you are found guilty of using a hand-held cell phone while you're driving, you may face which of the following penalties?

In the Northwest Territories, which of the following statements about hand-held cell phones is true?

A drivers licence from another jurisdiction within Canada, the United States, or _______ is accepted as a licence of the same class without testing.

If you are caught driving while your license is suspended, your vehicle will be seized and impounded for

If you are following a large truck and cannot see _________, you are too close.

When you encounter a flashing amber signal at an intersection, what should you do?

Car A is turning right on a red light. At the same time, a pedestrian starts to cross the road that the car is about to enter. Which one must yield?

A centre lane that is marked on each side by a solid yellow line and a broken yellow line is reserved for _________ and can be used by vehicles travelling in either direction.

Two cars arrive at a crossroads at about the same time. Which of the following is true?

On an undivided roadway, you see a school bus with alternating flashing red lights and possibly a swing‑out stop sign. You must stop

A flashing red light indicates that you must _________ before proceeding.

If you have consumed too much alcohol to drive safely, what should you do?

Which of the following statements about alcohol is true?

If you accumulate at least 8 but less than 15 demerit points,

If your licence is suspended for accumulating too many demerit points, your licence will be reinstated with

In heavy rain, your tires can ride on a film of water and lose contact with the road. This hazard is known as