FREE NWT Driver's Test Practice 2019 | NT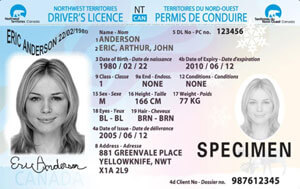 Northwest Territories Driver's Licence
To begin driving in the Northwest Territories, you'll need to qualify for your Class 7 licence by passing a written knowledge test. The test is made up of 20 multiple-choice questions on road rules, and a separate test of 20 questions on road signage, based on information pulled directly from the 2019 NWT Basic Driver's Manual. To pass both and receive your licence, you may not miss more than four questions in each test. You'll have 30 minutes provided for each exam. New drivers are eligible to test for their learner licence once they are 15 years old. The Northwest Territories have set a Graduated Licence Program to ease new drivers into the responsibility of being a fully licenced driver. Class 7 learner licence holders must be supervised at all times by another driver with at least two years of experience, may not drive during set late hours, may not carry other passengers, and must follow a zero-tolerance policy for driving under the influence. Once you have held a learner licence for one full year, you may take the road test and move up to a Class 5P probationary licence to be held for another year. Both the written and road tests each will cost $44 each time you attempt the test. In addition to the written tests when applying for your learner licence, you'll also need to take an eye exam and provide proof of identity. This practice knowledge test will help you study as you prepare to earn your licence.
Your Progress
6 mistakes allowed to pass
Passing score required: 80%
Challenge Bank

0
Heads up! We've just added this question to your Challenge Bank - a special test that automatically stores all your missed questions.
Back to the NT menu
Show comments
Northwest Territories Driving Test Fact Sheet
| | |
| --- | --- |
| How many questions: | 40 |
| How many correct answers to pass: | 16+16 |
| Passing score: | 80% |
NT Driver's Handbook
View the most recent (2019) official NT Driver's Licence Handbook.
Explore