Driving Test Practice: Yukon 2023 | YT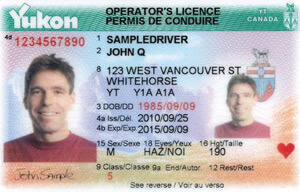 Based on 2023 YT driver's license manual
Instant feedback
Before you can obtain a Yukon driver's licence, you must first qualify for a Class 7 Learner's Licence by passing the written knowledge exam. That's the first step in the territory's graduated driver's licence program. The knowledge exam is made up of two parts and is based on the 2023
Yukon Driver's Handbook
. You'll need to score an 80% on each section to pass. You must be at least 15, pass your written knowledge test, and an eye exam to begin the licensing process. Once you've finished that step and earned your Learner's Licence, you may begin practicing driving with a co-driver, who has held a full driver's licence for at least two years. Log a minimum of 50 hours of driving in a variety of conditions over at least six months before you may take your driving road test. If you fail your written test, you may come back and retake it the next day again. This practice test is a helpful study guide to help you succeed on your first try.
Perfect for:
Yukon Learner's Permit
Yukon Driver's License
YT Senior Citizens' Refresher Test
YT Driver's License Renewal.
What to expect on the actual YT exam:
40 questions
16+16 correct answers to pass
80% passing score
Minimum age to apply: 16
List of questions (classic view)
If you encounter a potential hazard, what should you do?

You are giving a ride to some friends. If they don't buckle up, what should you do?

What should you do when someone is tailgating you?

Which of the following statements is TRUE?

If you're alert and make good decisions based on ________, you will usually be able to take a driving action before an emergency develops.

Which of the following can affect your driving abilities?

If you are under emotional stress while driving a vehicle, you should

When confronted by an aggressive driver, you should NOT

On your way home, you are being followed by an aggressive driver on your way home. What should you do?

You are in the left-turn lane, waiting to turn. The driver behind you honks the horn to get you to hurry up. What should you do?

Which of the following is NOT a true statement about seatbelts?

When positioning your vehicle while you're driving, you should

When driving in poor weather or road conditions, you should avoid using

In a roundabout, the right-of-way belongs to

In a roundabout, you must drive in

Which cars are using this roundabout correctly?

You want to drive straight through this roundabout. Which lane should you use?

A single solid white line across a road at an intersection means that you must _________ for a traffic signal or sign.

You are driving on a multi-lane freeway. Which lane should you use for normal driving?

You see a pedestrian about to jaywalk. What should you do?

You are approaching an intersection at which you want to turn left, and you cannot see any other vehicles around. Do you still have to signal?

This hand signal indicates that the driver intends to

This hand signal indicates that the driver intends to

You should signal when you intend to

You are driving in a roundabout when you hear and see an emergency vehicle approaching you from behind. What should you do?

When approaching this sign, you have to give the right-of-way to

Car B has entered an intersection to turn right on a red light. Car A has a green light and wants to proceed straight through the intersection. Which of the following is true?

When you see a flashing yellow traffic light at an intersection, you should

You are approaching a steady green light with a flashing green arrow pointing left. You may

You are approaching a steady red light with a flashing green arrow pointing left. You may