Alberta Fines and Limits 2023 | AB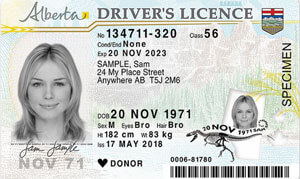 4.16 out of 5 • 129 votes.
Based on 2023 AB driver's license manual
Instant feedback
Alberta drivers don't only need to know the rules of the road. They also need to know what consequences occur when they break them. This practice test covers questions on fines, demerit points, traffic violations and speed limits: those are some of the toughest questions you're likely to see on your knowledge exam. Unlike other road rules and regulations, your common sense won't be of much help here: a lot of those numbers just need to be memorized. Each of the fifty unique questions is based upon information in the official Driver's Manual. An optional hint and simple explanation of the correct answer is included for each question, just in case you have a little trouble. The Fines and Regulations test is just another step in your journey to becoming an official Alberta driver. Best of luck!
Perfect for:
Alberta Learner's Permit
Alberta Driver's License
AB Senior Citizens' Refresher Test
AB Driver's License Renewal.
What to expect on the actual AB exam:
30 questions
25 correct answers to pass
83% passing score
Minimum age to apply: 14
List of questions (classic view)
The speed limit in both urban and rural school zones is ______ unless otherwise posted.

The maximum speed at which a school bus may be driven is

Under the Alberta Traffic Safety Act, if a driver is convicted of causing death or injury as a result of driving while impaired, the driver's licence will be suspended for at least

Class 7 licence holders are not allowed to drive

It will take at least ________ for an aspiring driver to complete both the learner's and probationary stages of the GDL program.

The maximum speed limit on roadways located outside of urban areas is

To reduce whiplash injuries, the space between your head and the head restraint should be

In Alberta, you can legally park

If you are involved in an accident in which overall damage exceeds $2,000, you should

Before turning at an intersection, you should be in the proper turning lane at least _______ before the intersection.

At night, you should use your low-beam headlights whenever you are within ________ of an oncoming vehicle.

Under Alberta law, every child who is under ________ and whose weight does not exceed ______ must be properly restrained in a child safety seat.

At a railway crossing that has a stop sign, you must stop _________ from the nearest rail.

A fully licensed driver who is convicted of impaired driving for the second time within 10 years must attend which of the following?

A fully licensed driver who accumulates 15 or more demerit points within two years will

In Alberta, you are approaching a stop sign at an intersection with no marked crosswalk or stop line. You must stop within _______ of the intersecting roadway.

Unless otherwise posted, the maximum speed limit on a provincial highway located outside an urban area is

Drivers who move to Alberta must exchange their existing licence for an Alberta driver's licence within

When you're driving in an urban area, you should scan ahead about

When passing an emergency vehicle or tow truck that is stopped with its flashing lights activated, you must slow down to _______ or the posted speed limit, whichever is lower.

To parallel park, first pull your vehicle alongside the vehicle parked ahead of the parking space. There should be about _______ of space between the two vehicles.

On a log-hauling truck, logs may extend up to _______ behind the bed of the truck.

If you are following an emergency vehicle with its flashing lights or siren operating, you must stay back at least ________ from the emergency vehicle.

A light-rail transit (LRT) train may take up to ________ to stop in an emergency.

If you are involved in a collision, you must report it to the police or local law enforcement if overall damage exceeds

You must turn your headlights on at night and whenever you cannot see clearly ________ ahead of you.

At a sign that has flashing yellow lights, you must slow down to no more than

If you wish to make a U-turn on a curve or hill in a rural area, you must be sure that you can be seen by other drivers up to

A new driver must remain in the Graduated Driver Licensing (GDL) program for at least

If you are convicted of impaired driving that causes death or injury,

While you drive, you should check your rear-view mirrors

On school days, school zone restrictions are in effect _________ when children are leaving school.

Unless otherwise posted, restrictions in playground zones are in effect from 8:30 a.m. until

The driver is responsible for ensuring that passengers under ____ years of age wear seat belts or appropriate child safety restraints.

In Alberta, you may not park within _______ of a fire hydrant.

The maximum speed limit on roadways within Alberta's urban areas is

A child should not be switched from a rear-facing safety seat to a forward-facing safety seat until the child weighs at least

If you're driving a motor home, you should maintain a following distance of at least ________ behind the vehicle in front of you.

In the daytime, if your vehicle is carrying a load that extends at least _______ beyond the rear of your vehicle, you must attach a red flag to the end of the load.

When you parallel park your vehicle in Alberta, its curbside wheels must be no farther than ______ from the curb.

If a GDL driver violates the zero tolerance policy for the first time, his or her licence will be immediately suspended for

In Alberta, the fines for speeding in construction zones are

When driving, the holder of a Class 5–GDL (Probationary) licence must not have a blood alcohol concentration greater than

You must avoid making excessive noise whenever you drive through a residential area

When parking on a rural roadway, make sure that your vehicle can be seen for at least ________ in both directions.

If you are found to be driving with a blood alcohol concentration between 0.05 and 0.08, you will face which of the following penalties for a first offence?

If you are going to park for longer than ________, you should turn off your engine.

If you are involved in a collision that includes damaging an official traffic sign,

In Alberta, you must not park within ________ of access to a garage, private roadway or driveway.

The maximum speed limit in a playground zone is _______ when playground speed restrictions are in effect.