FREE Alberta Learner's Practice Test 2023 | AB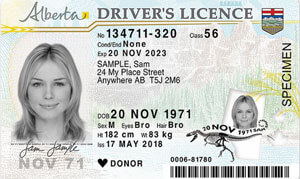 4.31 out of 5 • 1827 votes.
Based on 2023 AB driver's license manual
Instant feedback
The province of Alberta makes every effort to ensure that its roads are safe, including having a very stringent driver licensing program. This quiz is designed to test your knowledge of the rules and regulations of driving on Alberta's roads. It covers not only signs, compulsory limits etc. but also your knowledge of how to drive in different situations. Use the hint button if you're stuck, and good luck. There is a full explanation of each answer to help improve your knowledge.
Perfect for:
Alberta Learner's Permit
Alberta Driver's License
AB Senior Citizens' Refresher Test
AB Driver's License Renewal.
What to expect on the actual AB exam:
30 questions
25 correct answers to pass
83% passing score
Minimum age to apply: 14
List of questions (classic view)
Which of the following are considered offences related to impaired driving?

In Alberta, when are you allowed to exceed the speed limit when passing another vehicle?

In Alberta, you may make a left turn at a solid red light if you are turning

Which of the following statements about changing lanes is true?

When braking, just before you come to a stop, you should

When turning left from one two-way street onto another, where should you begin your turn?

When is it especially important to look out for wild animals on the road?

When parking a vehicle with a manual transmission facing uphill, you should always leave the parking brake on and the transmission in

On icy or other slippery roads, you should avoid using your

You are approaching a pedestrian crosswalk, and you see a flashing yellow light. What should you do?

Before you drive your vehicle, you should

You may not park in a parking space designated for persons with disabilities unless

What are the recommended positions for your hands on the steering wheel?

At an intersection, the traffic light is red, but a police officer motions you to go through. What should you do?

Someone texts you while you're driving. What should you do?

If your vehicle starts to pull strongly to the right, it indicates

Which of the following statements about railway crossings is FALSE?

Under Alberta law, if you are under _______, you must wear a helmet when riding a bicycle.

At what speed should you back up your vehicle?

Which of the following statements best describes "proactive driving?"

You are entering a street from a driveway. Which of these is the correct procedure to follow?

You should exercise extreme caution when the asphalt looks

An oncoming vehicle at night has not dimmed its high-beam headlights. What should you do?

While you're waiting in an intersection to turn left, which way should you point your front wheels?

What is the best way to check for vehicles in your blind spot?

Use extra caution when travelling through an intersection with

In Alberta, you must not park within 5 metres of

When approaching a solid red light where there is no stop line or crosswalk, you must

In traffic accidents, pedestrians and cyclists are most at risk because

When must you yield the right-of-way to an emergency vehicle that is sounding a siren?