FREE Alberta Driver's Test Practice 2023 | AB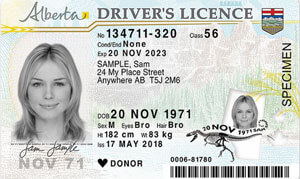 4.26 out of 5 • 2485 votes.
Based on 2023 AB driver's license manual
Instant feedback
Theoretical knowledge can never replace actual driving experience, but it is vital that before you become a fully licensed driver you are aware of the rules and regulations which govern motor vehicles in Alberta. It is also essential that you know what you should do in a variety of situations, even if some of them are ones which you may never come across. This free driver's practice test is designed to quiz you on what it is legally compulsory to do on Alberta's roads, and also on what makes a good driver. Use the hint button if you need help, and whether you get the answer right or wrong, have a look at the full explanation which can give you a better understanding of why the rules, regulations and advice exist.
Perfect for:
Alberta Learner's Permit
Alberta Driver's License
AB Senior Citizens' Refresher Test
AB Driver's License Renewal.
What to expect on the actual AB exam:
30 questions
25 correct answers to pass
83% passing score
Minimum age to apply: 14
List of questions (classic view)
When you are following a motorcycle, allow extra space between your vehicle and the motorcycle because

What should you do if your headlights fail?

What is the best way to ensure that there are no vehicles or cyclists in your blind spot?

What does this sign mean?

When another vehicle is merging into your lane from the right, you should

In an urban area such as a village, town or city, are you allowed to back up into an intersection or crosswalk?

If you are involved in a collision,

You enter a curve and due to wet conditions your vehicle starts to skid. What should you do to control it?

Turning right from one two-way road into another, from where should you begin your turn?

When driving behind a large commercial vehicle, you must make sure that you can see

How is a traffic circle different from a roundabout?

In hydroplaning,

Funeral processions have right-of-way over you…?

To recover from a skid, you should

When can you drive side by side with a motorcycle in one lane?

Parking is prohibited within 5 (five) metres of

An octagonal (eight-sided) red sign is

Uncontrolled intersections

When you are preparing to make a right turn from the right lane, you should shoulder check to the right to make sure

What legal documents are all drivers required to have when operating a vehicle?

If your vehicle breaks down on the freeway, you should

Overdriving your headlights at night is dangerous because

During winter months, you should carry ________ in your vehicle.

In Alberta, are you allowed to exceed the speed limit to pass another vehicle?

Are you likely to pass a breath test for blood alcohol concentration (BAC) after you've consumed just one standard alcoholic drink?