Driving Test Practice: Class 7 Learner's Licence NS 2023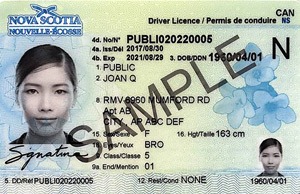 Based on 2023 NS driver's license manual
Instant feedback
If you wish to get your driver's licence in Nova Scotia, you will need to start by getting your learner's licence as part of the Graduated Driver Licencing program. In order to get your learner's licence, you will need to take two written tests, which are 20-question tests with one based on rules and the other based on signs. You will need to answer at least 16 questions correctly on each test to pass, achieving an 80% score. In addition to the written tests, you will also need to pass a vision test. When you go to the testing site, you will need to bring proof of age, two other forms of identification, and signed parental consent if you are 16 or 17. In addition to paying the knowledge test fee, you will need to pay the licence fee of $25.10 if you pass the written and vision tests. This Nova Scotia practice test can help you pass the rules and signs tests on the first attempt because it is based on the same information from the 2023 Nova Scotia Driver's Handbook as the real test.
Perfect for:
Nova Scotia Learner's Permit
Nova Scotia Driver's License
NS Senior Citizens' Refresher Test
NS Driver's License Renewal.
What to expect on the actual NS exam:
40 questions
16+16 correct answers to pass
80% passing score
Minimum age to apply: 16
List of questions (classic view)
Crossing guards have the same authority to stop traffic as

As you approach a curve, you should

If you're moving slower than the other traffic, you should drive

What is the purpose of a climbing lane?

To maintain a safe following distance under normal driving conditions, use

When are you allowed to drive over a fire hose?

The most common blind spots in passenger cars are

A vehicle ahead of you has stopped to let a pedestrian cross the street. When can you pass that vehicle?

You are stopped at a red light. Then the light changes to green while a pedestrian is still in the crosswalk in front of you. What should you do?

In which of the following situations should you increase your following distance?

Roundabouts are typically designed for speeds not exceeding

In Nova Scotia, you may not stop or park within ________ of the nearest rail of a railway crossing.

You are following another vehicle on a two-lane road. That vehicle is starting to pass a truck that you also want to pass. What should you do?

Which of the following statements about passing is FALSE?

You are preparing to enter a roundabout, but a pedestrian is crossing against your path. Who must yield?

You must not leave a vehicle parked unattended on a road or street for longer than

You may not park within ________ of a stop sign.

In Nova Scotia, which of the following persons is required to wear a seat belt?

When emerging from an alley or driveway, you should

When parking next to the curb on an upgrade, which way should you point your front wheels?

If the driver behind you sounds the horn to let you know that he or she intends to pass you, you should

When passing another vehicle at night, you should

Which of the following statements is FALSE?

When driving through a work zone, you should

In Nova Scotia, you must use your headlights

In rain, snow or fog, you should use your

If you are convicted of driving while impaired and it was your fourth such offence in ten years, your licence will be revoked

A police breathalyser will read "warn" if it registers a blood alcohol content (BAC) of

Which of these drinks contains the most alcohol?

Driving impairment can be caused by