G1 Fines, Limits and Demerit Points Practice Test 2023 | ON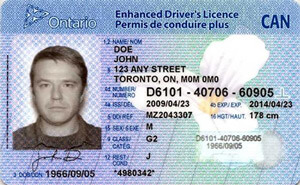 This G1 practice test covers questions on fines, demerit points, traffic violations and speed limits: those are some of the toughest questions you're likely to see on your 2023 Ontario G1 knowledge test. These questions come directly from the following two sections of the official MTO Handbook: "Graduated Licensing Requirements" and "Keeping Your Driver's Licence (Demerit Point System)". Unfortunately, your common sense won't be of much help here: a lot of those numbers just need to be memorized. The actual G1 test will be divided into two parts, with 20 questions covering road signs and 20 questions on rules of the road. You'll need to answer 16 questions in each section correctly to pass the test and get your Ontario G1 driver's licence, which is the first step in the lengthy process of obtaining your G licence.
Perfect for:
Ontario Learner's Permit
Ontario Driver's License
ON Senior Citizens' Refresher Test
ON Driver's License Renewal.
What to expect on the actual ON exam:
20+20 questions
16+16 correct answers to pass
80% passing score
List of questions (classic view)
Which of the following statements about the demerit point system is true?

If you are convicted of failing to remain at the scene of a collision, ____ demerit points will be added to your driving record.

If you are convicted of _________, six demerit points will be added to your driving record.

If you are convicted of following too closely (tailgating), ____ demerit points will be added to your driving record.

If you are convicted of driving at _______ km/h over the posted speed limit, four demerit points will be added to your driving record.

Which of the following statements is FALSE?

The police have the right to stop any driver they suspect is impaired. If the driver refuses to take a breath/blood test, their licence will be immediately suspended

If you are found guilty of driving around a railway crossing barrier, ____ demerit point(s) will be added to your driving record.

If you are found guilty of _________, three demerit points will be added to your driving record.

If you are found guilty of backing on a highway or driving too slowly, ____ demerit points will be added to your driving record.

If you are found guilty of carrying a child passenger who is not properly secured, ____ demerit points will be added to your driving record.

If a fully licensed driver accumulates 6 demerit points on his or her driving record,

If a fully licensed driver accumulates between 9 and 14 demerit points on his or her driving record,

If a new driver accumulates _______ demerit points on his or her driving record, he or she will be sent their first warning letter.

If you fail to surrender your licence after it has been suspended for accumulating excessive points, you may lose your licence for up to

Which of the following statements about demerit points is FALSE?

If you are convicted of a driving offence in another province,

A new driver has up to _______ to complete the graduated licensing process.

While you hold a G1 licence, your blood alcohol level may not exceed ______ whenever you're behind the wheel.

While you hold a G1 licence, you may NOT drive between

While you hold a G1 licence, you may only drive with another driver who

Which of the following statements about driving with a G2 licence is FALSE?

How many passengers is a G2 driver who is at least 20 years old allowed to carry in his or her vehicle?

If you are under 20 years of age and have held your G2 licence for at least six months, you

You must hold a G2 licence for at least ________ before you may take the G2 (Level Two) road test for a full G licence.

If you have a G1 licence and complete a government-approved beginner driver education course, you may take your G1 (Level One) road test after you've held your G1 licence for at least

What must you bring to your G2 (Level Two) road test for a full G licence?

Both the G1 (Level One) and G2 (Level Two) road tests will test you on

To obtain a G1 licence, you must be at least 16 years old and pass

G1 licence holders may NOT drive

You may NOT park within ____ metres of the nearest rail of a level railway crossing.

Do NOT park anywhere that you don't have a clear view for at least _____ metres in both directions.

Do NOT park wherever you would block

You may NOT park within _______ of an intersection that is NOT controlled by traffic lights.

You may NOT park within ________ of a bridge.

Under Ontario's Move Over law, you are required to

If you are convicted of violating Ontario's Move Over law, you will face which of the following penalties for a first offence?

If you are convicted of violating Ontario's Move Over law for the second time within 5 years,

If you are found guilty of going the wrong way on a one-way road, ____ demerit points will be added to your driving record.

The penalty for improper HOV lane use is