FREE Ontario G1 Driving Test Practice 2023 | ON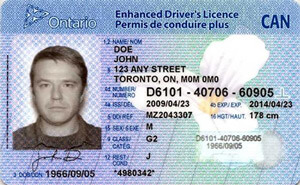 4.41 out of 5 • 145 votes.
Based on 2023 ON driver's license manual
Instant feedback
This G1 practice test has just been updated for October 2023 and mimics the real G1 driver's test in everything: number of questions (20 + 20), scoring system, and passing score. The actual G1 exam will have very similar questions as it's based on the exact same source - the MTO handbook. The Ontario G1 licence test is divided into two parts of 20 questions each, regarding rules of the road and road signs. You must successfully answer at least 16 questions in each section to pass and qualify for your G1 licence. Questions are pulled directly from the 2023 Ontario Drivers Handbook and will be multiple-choice. In addition to the test, you will also need to take an eye exam and pay a $158.25 testing package fee to cover your written exam, eventual G2 drive test, and your physical licence. Ontario has adopted a graduated driver's licence (GDL) program that can begin once you're 16 years old and takes about two years to complete. Once you have your G1 licence, you may use it to drive a vehicle under the supervision of a licensed driver. You must hold your G1 for a year, or eight months if you're in a driver's training program before you can take a road test for your G2 licence. If you fail your written test, you'll need to pay $15.75 to retake it.
Perfect for:
Ontario Learner's Permit
Ontario Driver's License
ON Senior Citizens' Refresher Test
ON Driver's License Renewal.
What to expect on the actual ON exam:
20+20 questions
16+16 correct answers to pass
80% passing score
List of questions (classic view)
What does this road sign mean?

This road sign indicates

What does this road sign mean?

What does this road sign mean?

What does this road sign mean?

What does this road sign mean?

What does this road sign mean?

What does this road sign mean?

This driver is using a hand signal. The driver intends to

What does this road sign mean?

What does this road sign mean?

What does this road sign mean?

What does this road sign mean?

What does this road sign mean?

What does this road sign mean?

What does this road sign mean?

What does this road sign mean?

What does this road sign mean?

What does this road sign mean?

What does this road sign mean?

If someone is tailgating you, what should you do?

When driving in heavy fog, you should use your

In Ontario, you may not carry ________ in a house or boat trailer while you are towing it.

In Ontario, when driving at night, you must dim your headlights (use low beams) whenever you are following another vehicle within

At an intersection when the signal light is green, which of the following has the right-of-way over all others?

Using a cell phone while driving

If the traffic signal light facing you is red and you intend to go straight through the intersection, what must you do?

If a fully licensed driver is convicted of using a hand-held electronic device while driving, they will face which of the following penalties for a first offence?

Which of the following classes of vehicles may carry a red light visible from the front?

The use of alcohol or drugs affects a driver by impairing which of the following?

On a highway, when may you drive at the maximum speed limit?

At an intersection where there is a flashing amber (yellow) traffic light, you must

A Level One (Class G1) learner driver may practice driving under the supervision of a licensed driver who has at least ______ of driving experience.

Unless otherwise posted, the maximum speed limit in cities, towns and villages is

While driving, a Level Two (Class G2) driver must not have a blood alcohol concentration greater than

Overdriving your headlights at night is dangerous because

You are approaching an intersection where there is no signal light or police officer. A pedestrian is in the crosswalk on your side of the street. You should

A G2 driver age 19 or younger who has 6 months or less of driving experience may carry ____ unrelated passenger(s) age 19 or younger between midnight and 5:00 a.m.

If you want to pass a motorcycle, you should

A "No Parking" sign means