New Brunswick Animated Behind-the-Wheel Simulator | NB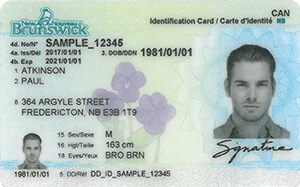 Based on 2023 NB driver's license manual
Instant feedback
If you're studying to become a licensed driver in New Brunswick, we have good news for you. As you may know, it's not enough to know the the NB traffic signs and road rules. It's also important to be able to react quickly in real-world driving situations. But how do you prepare for those when you don't have your licence yet? Here's a simple answer: you get ready for those by practicing simulated scenarios. This animated Behind-the-Wheel driving simulator gives you the ability to do just that: the first-person view of the road and real-world situations as seen from the driver's seat. You'll get 37 short animations where you must answer a question based on what you've seen. These are the kinds of problems that drivers contend with regularly. For each question, there are four possible answers of which only one is correct. You can pause the animation at any time or view it over again if something isn't clear the first time.
Perfect for:
New Brunswick Learner's Permit
New Brunswick Driver's License
NB Senior Citizens' Refresher Test
NB Driver's License Renewal.
What to expect on the actual NB exam:
40 questions
16+16 correct answers to pass
80% passing score
Minimum age to apply: 16
List of questions (classic view)
Your car and another car arrive at an uncontrolled intersection (i.e., one without signs or signals) at about the same time. Who must yield?

You are driving on a road that has a central area separated by solid and broken (dashed) yellow lines. What is this area?

You spot an emergency vehicle approaching with its flashing lights on. What must you do?

Can you legally park here?

Which of the following takes precedence (i.e., should be obeyed above all the others)?

You see this yellow sign on the right. It indicates

Your car and two other cars arrive at an intersection at about the same time. A pedestrian is crossing ahead. Who has the right-of-way?

Your car and the blue car arrive at an intersection at about the same time. Who must yield?

You are driving along a divided highway. You notice that a school bus has stopped for passengers on the opposite side of the road. Its red lights are flashing. Do you have to stop here?

This car's turn and brake signals have failed, so the driver is using hand signals instead. This driver intends to

Your car and two other cars arrive at an uncontrolled T-intersection (i.e., one without signs or signals). In which order can the cars proceed?

When you come to a railway crossing, you must stop at least ___ metres from the nearest rail or gate if the red traffic signal lights are flashing.

Your car and two other cars arrive at a four-way stop, one after the other. Which car can go first?

Your car and another car have arrived at an all-way stop at about the same time. Which car has the right-of-way?

What must you do at a flashing yellow traffic signal?

Three cars are using a roundabout. Which car is NOT using the roundabout correctly?

You arrive at an intersection whose traffic signals are not working; all the lights are out. What must you do?

You arrive at a crossroad. You have a green arrow. Can you turn left here?

You see this yellow sign on the right. What does it indicate?

You see a lane with white diamonds painted on the pavement. What kind of lane is it?

You see this signal above your lane. What does it mean?

You're driving on a highway when you see a flashing arrow panel and traffic cones in your lane. What do you do?

Is any of these cars using this roundabout incorrectly?

Which car is using this roundabout correctly?

Which car is using this roundabout correctly?

You need to drive straight through this roundabout. Which lane should you use?

Which car is using the roundabout incorrectly?

Which car is using the roundabout incorrectly?

Which car is using the roundabout correctly?

You are in the turquoise car and have approached the roundabout. You see the red car already in the roundabout. Which of the following is true?

You are in the turquoise car and have approached the roundabout. You see the red car already in the roundabout. Which of the following is true?

You are in the yellow car and making a right turn at the roundabout. You see the turquoise car already in the roundabout. Which of the following is true?

You are in an intersection. An emergency vehicle displaying flashing lights and sounding a siren or bell is approaching. What should you do?

If you wish to enter an expressway or freeway, you must _________ before merging with the traffic.

When you exit a high-speed, two-lane roadway, _________ if you have traffic following you.

If another vehicle is passing you on the left, allow the other vehicle to pass safely, and

You are on a two-lane road with traffic moving in both directions. To pass a vehicle on the left, you must

If you start to skid, you must